Our old friend, handsome and hung insurer Mark, was visiting Paris for the weekend. The Keumgay director reckoned that it would be a good opportunity to show Mark his latest videos. However, Mark was a little reluctant and suspicious of the whole thing, so the director thought it would be wise to offer him a real massage, performed by a real masseur.
Mark likes his massages, so he promptly agreed to it. However, it just so happened that he arrived at the same time when another guy was supposed to make his own video and photo shoot. So the director told Mark that he would have to wait for that shoot to be completed first, and then he would get a massage. And Mark agreed.
As luck would have it, the whole spectacle with the athletic straight guy, who was getting a massage and jerking off his huge cock, proved to be quite a turn on for Mark. And as the time went by, Mark's reluctance gave in to his desire. Suddenly, it wasn't such a bad idea if his massage would go astray, so to speak. By "going astray" we mean developing in the same way as the massage with the other hot athletic straight guy.
When the straight guy who was making his photoshoot left, the masseur was extremely turned on and started to take Mark's clothes off, even though there was no plan to make a video again. However, things went in exactly that direction, and so we get to see Mark getting undressed although it wasn't his initial plan.
The masseur couldn't resist the temptation and just had to play with Mark's amazing text pectoral muscles. You can tell that Mark is not digging it. However, the director and the others were successful in persuading Mark to stay and allow it to happen. Mark had to put his pride aside and allow the director and his assistants to have their way with his fit, muscular, athletic body.
The masseur Ken was quick to pull down Mark's briefs and immediately started to play with his huge monster cock. Let's just take a moment to appreciate that beautiful big dick that is so hard and stiff and straight! What a masterpiece of nature! And let's not forget Mark's big juicy balls – the masseur was all over them, licking and munching them greedily. Those big balls surely contained a big amount of jizz, which was aching to be released as soon as possible.
The pervy director and his assistants treated Mark as if he were their toy from the beginning of the video until the end. His cock was sucked and they jerked him off until he finally shot his load. Mark resisted in the beginning, but they knew how to make him shoot his load even though he didn't want it to happen..
This is a great EDGING video where three guys have their way with super hung insurer Mark.
However this bonus video is something that wasn't planned in the beginning. The assistant that joined in the fun here was not supposed to interfere or help in any way. The second assistant took Mark's huge dick and started to suck it despite Mark's objections.
We can see how Mark is surprised at that moment when he thought that he would be able to finally jerk off alone by himself. But he was all too naive, because the pervy director and his assistants would never leave him alone with that huge cock only at his disposal. We might say that this was the first time he was "abused" at that point by the assistants.
The greedy assistants turned into impromptu cocksuckers vied for his big cock. Mark finally relented, however you can see on the second part of the office sucking that he kind of froze and started to stare at one of the assistants.
So this is one of those "off camera" videos, that were not supposed to be released ever, where Mark was filmed and during the entire scene he doesn't say a word because he was too excited. Mark's huge raging erect cock was enough and sufficient "agreement" on his part for the director to decide to proceed with this plan. After all, a hard cock doesn't lie, does it?
Preview video: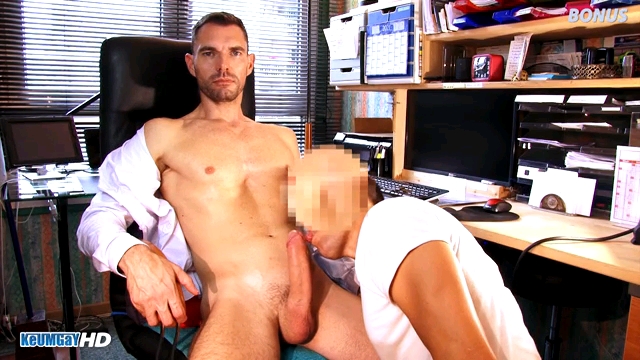 Click here to watch or download their entire video in HD quality at Keumgay.