Craig Spade is a handsome ex-military dude. He has only recently started to experiment with gay porn, in order to earn some extra money, but apparently he doesn't mind being fucked at all.
Seth decided it would be interesting to fuck this hunky military guy and was looking forward to finally putting his hard fuck stick into Craig's very hairy ass.
Craig takes off Seth's pants and quickly finds the treasure within. Seth's dick springs into life almost immediately and soon enough Craig has a big boner in his hands. Craig wants to prove his worth as a cocksucker and gives an amazing blowjob to Seth. Craig really loves the feeling of Seth's hard, stiff and throbbing dick inside his mouth. Soon enough Seth thinks that Craig is ready to receive his cock and starts to fuck Craig in his ass quite deep and hard.
Seth is mad with desire and pushes his cock deep inside Craig's hairy ass, balls-deep! Craig then decides to change the position and goes on top and bounces up and down, riding Seth's cock.
Seth thought it would be good to fuck this handsome military man in every imaginable position and so he bends him over the sofa and continues to bang him hard. The fucking goes on and on and at one moment we can see some nice butt juice dripping out of Craig's manhole. This is a real sign of a really good, messy fuck!
Now Craig goes on his back, and pushes his legs in the air, and Seth lies above him and fucks him mercilessly until he feels he can't hold back cumming anymore.
Craig told us previously that he wanted to taste Seth's sperm, so he opened his mouth and waited for Seth to deposit one of his huge cumshots straight into his mouth. There was so much cum that Craig's mouth was overflowing with it. Craig showed the cum, then swallowed it.
It was really great watching these two hairy and horny men enjoying in no-holds-barred, merciless fucking.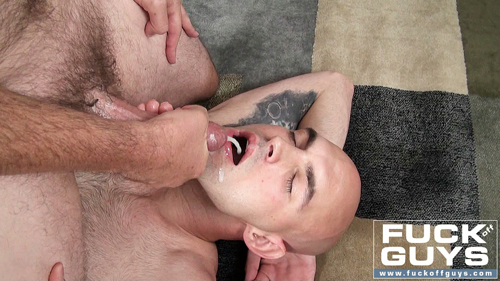 Click here to watch their entire movie in perfect HD quality at
FUCK off GUYS!
FUCK Off GUYS is a brand new porn site from the makers of SUCK Off GUYS. It features fresh and hot straight amateur men who get their first chance to fuck a guy. These guys are true amateurs, you won't see them anywhere else. The guys are sexy and the action is sizzling hot so check them out!