Jorge Alvarez is basking on the terrace on a lazy late Summer afternoon. The sunrays cause his dick to spring to life and he slowly takes off the shirt to show us his amazing ripped body. His chest and arms are pure perfection, This guy's got just the right amount of muscles for my taste – not too little but also not too excessive. Yummy!
Although I could easily cum just by watching his muscles, Jorge proceeds to get completely naked and reveals his big hard dick that points straight ahead. He is being cocky and walks around the house with a big boner.
Finally he decides to sit on a sofa and stroke his hard dick. It is a very pleasurable wankoff session, he clearly gets into it quite a lot. But wait, there's a surprise in the end!
When Jorge cums, it is a sight to behold – lots of squirts of his sperm flying everywhere! Just take a look at his body after the cumshot, and I think you'll begin to imagine how the actual squirting looked like!
Short preview video: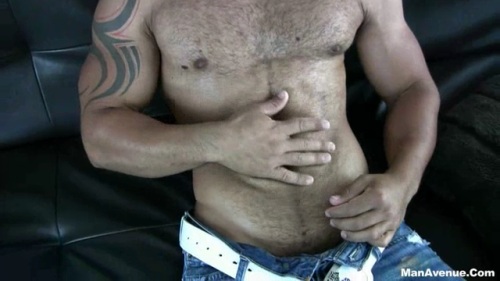 Click here to watch his entire fucking video in perfect HD quality at Manavenue!
Manavenue is an exceptionally good porn website that features masculine, cocky, muscled, powerful straight men, the type of guys that grab your attention while you're secretly ogling them in the street or in a supermarket. These tough motherfuckers are aware of their sexual appeal and want to show you everything they've got.