We have three very bad boys here: Philip Aubrey, Gavin Waters and ever naughty Cliff Jensen. They were convicted of stealing and are sent to the slammer. Christian Wilde is their prison guard and takes care of whatever needs to be done with the new inmates. They have to pay their debt to the society and he won't hesitate to use his 8-inch police club to make sure that everything goes as planned.
Two of the inmates, Gavin and Philip, immediately crash and go to sleep, tired from the previous day. But Cliff is rock hard, Christian patted him on his ass when escorting him to his cell this evening and, try as he may, he can't get that out of his mind. Christian yells at them "Shut the fuck up and go to sleep!", but it doesn't help with Cliff's rock hard erection that doesn't want to go away. He knows he won't be able to go to sleep until he's got his nuts emptied at least once today.
So Cliff begins to jerk off his hard meat slowly and just doesn't give a damn what might be the consequences. Christian sees what Cliff is doing while on a routine inspection and he is unable to resist the temptation. He enters the cell and takes Cliff's hard monster cock in his mouth, giving it a long overdue blowjob. He rubs Cliff's chest and balls at the same time.
Christian takes out his own cock and Cliff takes it in his mouth the same second. Christian's cock has a really big cockhead. Cliff is doing such a great job at sucking his cock that he's already thinking about how to keep this perfect cocksucker for the rest of his life.
Now, the main problem arises. Cliff wants to fuck Christian and Christian also wants to fuck Cliff. But they're both tops, so what are they going to do? Cliff has an idea and points to the obvious solution – the two other inmates that are now asleep. They need and can take all the necessary fucking.
Cliff wakes up Philip and stuffs his big cock mercilessly into his mouth. No explanations, just brute force. Very close to them Christian begins to insert his big schlong into Gavin's mouth. He orders Gavin to watch for how much spit ends up on his cock, it all has to be perfect.
Phillip proved to be a fantastic cocksucker, Cliff almost blew his load thanks to Gavin's cocksucking skills. But it's time to get fucked now. These bottom guys need their asses stuffed with hard cocks.
Christian orders the two bottom guys to get on their knees and stand next to each other on a single bed. Then the two aggressive fuckers fuck the lucky prison inmates. No doubt this can be nominated for the best prison fuck this year!
Short preview video: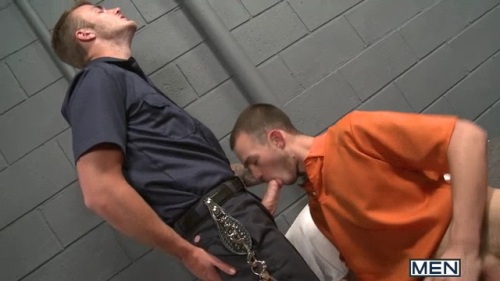 Click here to watch their entire video in perfect HD quality at Drill My Hole!

Drill My Hole is a brand new porn site from the owners of MEN.COM and it features rough men who like to fuck their bottoms hard and very aggressively. These usually straight bad ass dudes can really drill holes in a virgin man ass. Lots of high quality HD videos inside!