Adam Killian is terribly upset and mad at his boyfriend Jessie. Jessie should be happy to have such a great big man as a boyfriend, but he's been slutty lately and fucked with other guys. Unfortunately for him, Adam saw it all on his mobile phone due to some error, and now it's payback time.
Adam quickly returns to his house to face the slutty boyfriend, still not quite sure what prompted him to such a reckless and insolent gesture. Why fuck with other men when you already have the best?
"Open the door! I know what you did!" yells Adam. Jessie knows he's in big trouble, but for now he is safe. The front door is locked. But the back patio door isn't! Jessie runs to the back of the house but it was too late. Adam overcomes him and the fight gets quite physical.
"What the fuck is going on!? Who is this guy!" demands Adam rightfully. Jessie begs for forgivness, but it's of no use. After several more shoves from Adam Jessie loses his footing and drops to his knees.
Adam feels the mixture of lealousy, anger and lust and wants to remind his slutty boyfriend about his gorgeous 8-inch dick.
"Suck my cock and you better suck it good… is that how you sucked his cock?". Jessie is getting the gag reflex now, being stuffed so hard with his boyfriend's huge cock that fills his entire mouth and throat. He's trying to apologise between breaths, but his pleas fall on deaf ears.
Adam is now stuffing his cock really hard, basically face-fucking his boyfriend. But that was just the beginning. Adam wants to show his slut boyfriend how good he can fuck. So he starts fucking him in the ass and doesn't stop for nearly an hour, totally wrenching that poor hole!
This fucking action is just purely raw. There is no sensitivity or tenderness. Adam is mad and wants to get his anger out and directs it into his cock. Jessie doesn't apologise anymore. Instead you can only hear him gasping for air between Adam's forceful thrusts.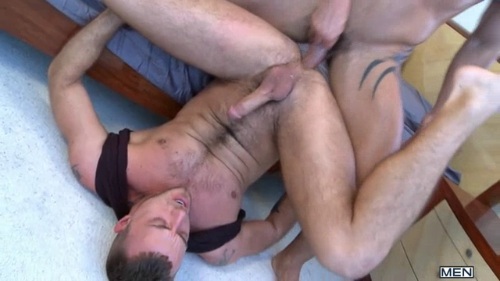 Click here to watch their entire video in perfect HD quality at Drill My Hole!
Drill My Hole is a brand new porn site from the owners of MEN.COM and it features rough men who like to fuck their bottoms hard and very aggressively. These usually straight bad ass dudes can really drill holes in a virgin man ass. Lots of high quality HD videos inside!