We've already met Solomon, the guy who loves it kinky and sometimes painful. But as tough as he is, it wasn't easy to figure out what to do during his first encounter with a man.
Not that many guys are into smacking while in the middle of fucking. So I finally set my choice on Micah because he can be domineering and decided that Solomon can bottom this time.
Solomon earlier told us that pain is usually not a problem for him, although this is a new kind of pain and he was still very nervous.
First the guys jerk off together, measuring their cocks (both are big!) against each other's cock. Micah starts to suck on Solomon's dick and that did the trick for both of them to get totally hard.
It was also important that Solomon (as a straight dude) gets used to holding a guy's cock in his hand without freaking out. Solomon gave a sign he was ready to try sucking and I gave him the green light.
Solomon truly looks powerful with all those muscles and his big frame only intensifies it. He is really one huge and strong dude!
Now we get to the fucking and Solomon took Micah's first thrust like a champ. It's obvious he is in pain, but for him that's a good thing. Solomon later told us that, despite looking as if he was angry throughout the shoot, he was actually proud that he handled Micah's cock so well.
Micah eventually unloads the contents of his balls onto Solomon's ass and Solomon encourages him to do so. However, getting Solomon to nut turned out to be a bit of an issue, because he is used to having girls ride him. And he also likes to lie on his back when he is about to cum.
So I gave him "homework" to practice cumming while standing upright and to try to be more interactive.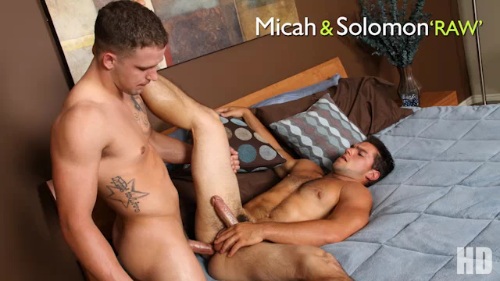 Click here to watch their entire video in perfect HD quality at Chaosmen!
Chaosmen is a great porn site that features hot straight and bi men getting serviced or fucking their mates bareback for some cash. This site is exceptional and very unique because almost every single fucking is bareback and ends with gorgeous internal cumshot or creampie!