Like Baseball?
Well then you'll love Corey, our new Bait guy, who carries around a Louisville Slugger and two big balls…between his legs that is. Wow, we're not kidding, his package is thick, meaty and succulent! He's a masculine dude with a nice toned body and an ass that just begs for attention. He joins us for this Guy Quest episode in an effort to have hot sex with another masculine straight guy.
Just as we were interviewing him in the studio lobby, a good looking, young dude could be seen through the front window just roaming around our parking lot. So, we figured it was now or never and we all took off to see what he was up to and if he fit into our straight guy seduction plans. It turns out his name is Kain who works close by and was looking for the dumpster. He was quite surprised by our presence and our camera, so before he could figure things out, we gave him the bum's rush. We offered him some cash and before you know it we broke his resistance down and our Bait guy, Corey was on his knees sucking the dude off right next to the dumpster he started out looking for. Kain has the face of a cover model with deep hazel eyes that draw you in and mesmerize you. With a beautifully toned body, nice smattering of body hair and several interesting tattoos, this hot straight man is the total package. Speaking of package…he sports a nice 8″ of hot man meat! Well, we didn't want Kain to cum at the dumpster and leave without us getting to push him even further, so we moved the action inside. The rest of this episode is just what we all like to see, a perfectly straight guy who's used to having sex with his girlfriend, instead kissing, jacking, blowing and fucking our hot Bait boy, Corey!
Make sure to watch this preview video: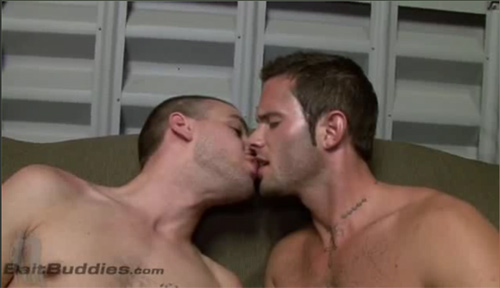 Wow! There are some movies which I particularly recommend to my blog readers because the men and/or the action is scorching hot. This is defo one of them. Both of these guys are unbeliveably hot and manly. I already blew two big loads while watching their full video over at Bait Buddies.
Click here to be taken to Bait Buddies where you can watch this whole movie AND many other hot straight dudes tricked into gay sex!