As soon as Brock entered the room he gave the order to Trey "Lick my feet, then suck my cock!".
Brock is kind of a playboy but he got married recently because he made his wife pregnant about a year ago. If you pay attention you can notice his wedding ring at the start of the shoot, which he took off somewhere in the middle of the shoot. Actually, he even left without taking it, so we phoned him on his mobile and told him what he had forgotten. He told us we basically "saved his marriage". It seems that his wife still has no idea about her husband's wild side…
Brock explained his feet fetish to us – he says that his feet seem to be connected directly to his cock, so when a guy sucks and licks his big feet, that warm fuzzy feeling enters his cock in a matter of seconds and makes it instantly hard. So when a guy worships his feet, his cock is ready for action as well – and it doesn't matter who sucks his cock either!
Then Brock gives the order "Now suck my dick!"
Trey obeys this order like any good cocksucker and delivers a great blowjob. In fact he was so good that Brock completely forgot to warn him he was about to cum and just sprayed his cum into Trey's mouth. Later Brock told us Trey was an outstanding cocksucker, which we already know.
Short preview video: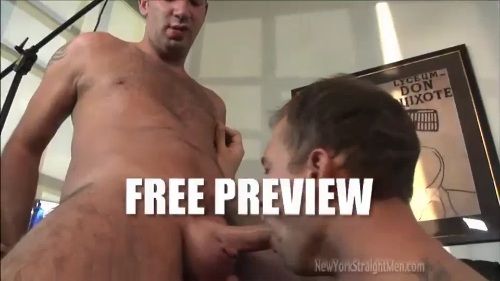 Click here to watch Jimmy's entire video on New York Straight Men!
New York Straight Men is the world's biggest collection of straight men getting their blowjobs from gay dudes!