Today we are going to revisit one of those classic blowjob videos from NewYorkStraightMen. This time around the straight guy getting sucked off is Vin Nolan and the resident cocksucker is Sergio.
Vin spent that day at Jones Beach, and by the end of the day he was pretty horny. He had heard that there was a new Resident Cocksucker at the NewYorkStraightMen headquarters, so he decided to put the new cocksucker to the test. When he arrived, Vin didn't have a chance to take a shower after the beach, so he wanted to get the full tongue bath, and then a slow wet blowjob.
Like every good cocksucker that knows his place, Sergio knew that he had to do what he was told, no questions asked. Vin gave Sergio the "job order" to lick out his ass and then to service his large stiff cook until he shoots his load.
Sergio understood the orders perfectly, got to his knees and started to work on Vin's huge hard manmeat immediately! Sergio also devoted the due attention to Vin's butthole, licking off the sand, salt and sweat.
Once Vin was pleased with how Sergio licked his butt, he turned around and ordered Sergio to open his mouth and to prepare for the blowjob. Sergio proceeded to service Vin's cock quite professionally, and we can safely say that he exceeded even our expectations! Obviously, Vin's massive hard dick was a real inspiration for a professional cocksucker like Sergio, and you can tell that he really enjoyed servicing it.
After some time Vin shot his load all over Sergio's torso, and damn! – it was a big load! Several minutes later, Vin gave his expert opinion about new cocksucker Sergio and gave him a thumbs up! We agree with this opinion, and we think that Sergio is definitely a keeper!
We made sure to include quite a bit of this classic blowjob and rim video in the EXTENDED PREVIEW VIDEO below, so if you like these NYSM blowjobs, you should definitely check out the entire video at their website.
EXTENDED PREVIEW VIDEO: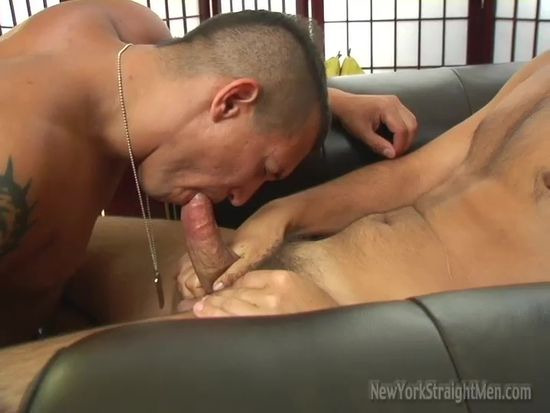 Click here to watch their entire video in HD quality at New York Straight Men!
New York Straight Men is the world's biggest collection of straight men getting their blowjobs from gay dudes! These men are usually truly straight but they love getting head from a gay guy because it feels so much better than whatever their girlfriends can do. These men are not the Hollywood type cuties, they are Real Men!