They have a custom at CMNM Trojan Motors factory whereby it's common for the tough and hard blue-collar guys to fall out with each other while working. However, the management thinks that these lads still have to cooperate with each other in order to maintain or increase productivity.
So the management has come up with a new idea which they will test today on Steve and Derek. They will force them to remove each other's clothes, examine each other's bodies and then make up with each other cuddling, kissing and rubbing their cocks together.
The management is not concerned about their unwillingness, how much they'll kick up a fuss and sneer angrily because they are forced to get so physically close to one another. They are certain that the physical closeness between their employees will undoubtedly improve their productivity.
Short preview video: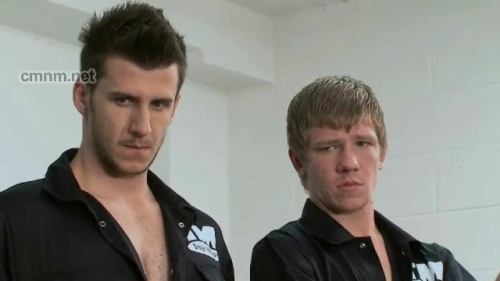 Find and watch horny Clothed Male/Naked Male videos in HD at CMNM now!

Clothed Male / Naked Male (CMNM) is a superhot porn site where Nervous straight guys get stripped naked, groped and violated by fully clothed men.
There's nothing better than stripping straight lads completely nude, putting their bodies on display, and teaching them exactly how to submit! When they are in such a submissive position, one would be crazy not to use the opportunity and jerk them off!