by Ben Daniels (Admin) on Feb.13, 2019, under Island Studs
Landry is a very tall and always horny mixed Creole surfer dude who hails from Louisiana. He sports a thick 8-inch cock, naturally light hairy body, big hairy butt and nice big balls to match. The guys at Island Studs had lots of fun filming this sexy bad boy while he was messing with his hardon through his board shorts, cleaning the Koi Pond and getting all covered in mud, and finally takes a pee – no less than 9 times!
Landry's creamy light-chocolate skin appears oddly exotic and sexy when contrasted against the backdrop of the lush green tropical Hawaiian garden. Landry is new to Hawaii, being a native of "the Southernmost tip of New Orleans", but he adapted quite fast. He represents a true Hapa mix: his father is full African and his mother is white French from the Caribbean.
At just 23 years old, Landry is already quite hairy, his height is 6'2" (188 cm) and he weighs about 180 lbs (82 kg). He wasn't shy about sharing some of his personal stories about his life as a Postal Worker in Lousiana, as well as learning about the fact that he has a really big dick when he was just 10 years old. I am already trying to picture in my mind how he must have looked in the Postal uniform a few years ago. But Postal work is now a thing of the past for this handsome guy. Since he moved to Hawaii, Landry would like to get into the business of organic farming.
Landry says he is proud of his athletic, basketball body and that he loves surfing ever since he arrived in the islands. There are so many genuine, unrehearsed moments in this sexy amateur video that show this sweet and friendly guy showing off his goodies for the camera. He walks around the garden with his heavy big dick swinging between his legs and then stops to take a piss in the garden. Landry is the definitive Piss King of Island Studs – having beaten all the records in pissing so far.
In this video we will, of course, have the opportunity to watch Landry stroking his big manhood, which is the highlight of the video for me. Pay attention to the size of that big mushroom cockhead and the way he squirts load after load of creamy boy juice all over his muscular and hairy abs. There's no denying that this Island Stud is a big shooter and big cummer! After he shoots his load, Landry stands up and lets the cum drip off slowly off his dick hair, thighs, belly and ball sack. He is covered in his own cum and he looks so happy! Then there is, of course, the shower scene that shouldn't be missed either.
Preview video:
Click here to watch his entire movie in HD quality at Island Studs!
Island Studs is a great, new, and refreshing porn site that features hot guys from Hawaii. These bad boys have no problem with showing off their beautiful, toned body and hard cock. Watch them as they do their usual chores against the stunning backdrop of Hawaiian nature!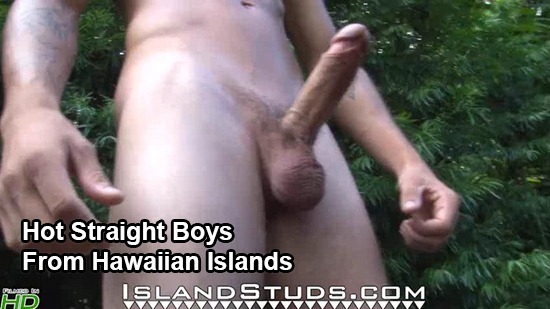 :8-inch cock, big cumshot, huge dick, jerking off, Landry, lean body, mixed race, nature, outside, postal worker, surfer, taking a piss