Straight boys Carter and Turk came over to earn some more easy money. This time they will have to fuck, and it's the first time for both of them. They draw from a jar to see who is going to bend over and who is going to fuck ass.
Turk wasn't happy to see that he drew "the bottom", but I think he enjoyed it much more than he ever thought possible. First he prepared Carter's cock by giving him a nice good blowjob.
"Fuck! It's fucking HUGE!" Turk said with an unhappy face when he saw Carter's cock grow to its full size. Hesitantly, Turk slowly bent over and gave his ass to Carter.
Turk had no idea that his prostate is going to get massaged in the process, and that that produces some amazing sensations unlike anything else. Soon enough he was in fuck Heaven and shot his big load while moaning and squealing from pleasure. Carter literally fucked the cum out of Turk.
Once he shot his load, Turk played a bit with Carter's nuts and Carter then shot his load of spunk all over Turk's stomach and abs.
Short preview video: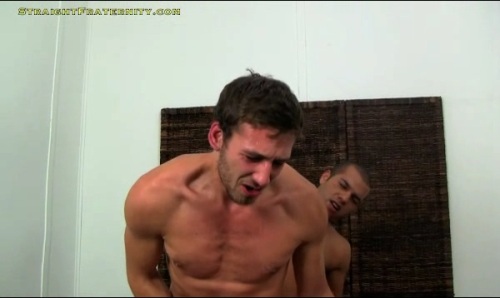 Click here to watch his entire video in perfect HD quality at Straight Fraternity!
Straight Fraternity is a great site that features hot and horny straight amateur guys. The guys here are funny, cool, and entertaining… and of course hot as hell… I'm sure you'll enjoy watching their antics! The site authors really love to show cumshots and if you're a cum lover, you will like this site.