Four of our old friends – Nikko, Garrett, Dax and Robbie – decided to get together and give a helping hand to Spence to get him off!
They all drew from a big plastic glass and each got one particular "activity" to perform on Spence. Dax drew "kissing", Robbie drew "nipples", Nikko drew "cock", and Garrett drew "ass".
So they all got down to business, each covering one of the aforementioned activities. Spence loved all the attention and hard work from his buddies and it was not long after that that he was on the brink of cumming.
Spence rose up, straightened himself and began to shot his load. The guys kept touching him with their hands all the time, it was a very erotic and sexy sight.
Short preview video: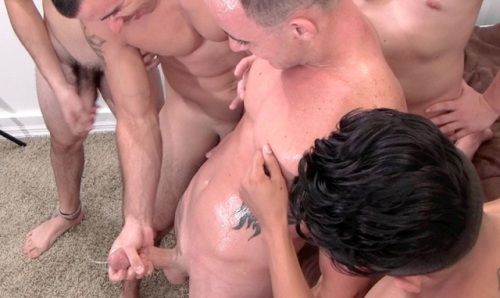 Click here to watch his entire video in perfect HD quality at Straight Fraternity!
Straight Fraternity is a great site that features hot and horny straight amateur guys. The guys here are funny, cool, and entertaining… and of course hot as hell… I'm sure you'll enjoy watching their antics! The site authors really love to show cumshots and if you're a cum lover, you will like this site.