Jordan is one of those mean, rough straight guys who is considered to be the chief. He pushes drugs and pimps out his bitches on the street. That's his job.
For StraightHell instructors there's nothing better than to obtain such a fine rebellious specimen of a mean straight dude directly from the street. So much to train and to tame this tough gangster. He should be taught how to work like his whores. He has to taste his own medicine, so to speak.
Jordan's long silky mane proved to be perfect for holding his anal hook in place and keeping his head up for training! We yanked his balls (which must have hurt) and spanked his ass many times until it became red. In that awkward and humiliating position, Jordan is forced to take Adrian's cock into his mouth and to push his tongue up Dave's ass.
The merciless instructors from Straight Hell will not let this feisty gangster free until he is properly trained, humiliated and corrected so he can pleasure other men in the right way.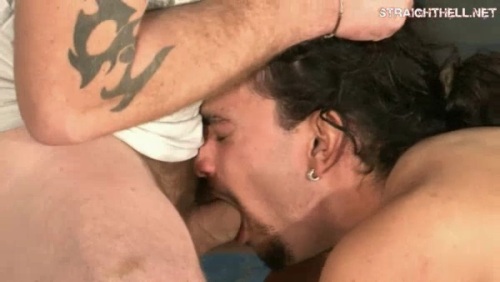 Watch new videos of arrogant straight men being turned into obedient cocksuckers at StraightHell.
If you prefer your porn to be on the kinkier side, you should definitely check out StraightHell, a site devoted to hot straight guys being tormented, humiliated and treated without mercy by big mean studs!