Years have passed since we've last seen Patch. As you may remember, he works as a long shore man in the Navy Yards and he had a long-term girlfriend.
Unfortunately his girlfriend is now history and he dates new girls now. He says the thing he likes the most about it is – blowjobs! That is precisely what brought him back to us, we always promise the best blowjob in the town!
Patch is a very manly guy. He is quite tough, blond and of Irish-American descent. He lives and works in New York. His body is well-defined and his muscles have developed not from the gym, but from hard physical labor he does.
One late evening he came to us and said his balls were completely filled up and needed emptying ASAP. Trey was more than willing to offer his cocksucking skills to this straight dude as soon as he saw him. Patch was impressed that our cocksucker boy was very obedient and fell on his knees right away. Trey took his cock and took good care of it, making sure that all the right spots got stimulated.
Patch sat on the coffee table and let the cocksucker service him the way he wanted. Trey delivered a long, wet and sloppy blowjob and was rewarded by a big, sticky, white wad of jizz all over his face!
Short preview video: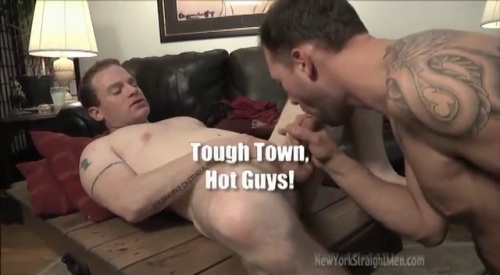 Click here to watch his entire video in perfect HD quality at New York Straight Men!
New York Straight Men is the world's biggest collection of straight men getting their blowjobs from gay dudes! These men are usually truly straight but they love getting head from a gay guy because it feels so much better than whatever their girlfriends can do. These men are not the Hollywood type cuties, they are Real Men!