Today we're going to revisit one of those classic blowjob videos from NYSM. This time round, it's a very hot 3-Way with Officer X, Nick and Bobby.
Every genuine cocksucker craves a good juicy big dick to suck, and most cocksuckers will be additionally motivated when they have a chance to blow a hot hairy straight man. So, you can imagine how happy cocksucker Bobby was when he heard he would have a chance to suck two huge straight cocks at the same time – Officer X's and Nick's! Bobby really believed he went to the cocksucker's heaven!
Officer X came back fresh from work. He had no idea that a second man would be present and, generally, he didn't know what to expect at all. But when the NYSM crew contacted him on his mobile phone about 2 hours prior to the shooting, he just replied "FUCK YEAH"! When he arrived, Officer X was wearing his jeans and a new Police Athletic League T-Shirt. The NYSM crew thought it would be great if he appeared in front of the camera wearing that T-Shirt, but Officer X didn't like the idea and said he would prefer if the video could start off with him being shirtless.
However, since the process of undressing is also an important part of these videos, the director didn't accept this proposal, but instead offered Officer X to wear one of their T-Shirts. Luckily, a colleague of NYSM's director who makes T-Shirts was around, and he provided an alternative shirt for Officer X to wear for the shoot. We think Officer X wore it perfectly, even though it might have been a little tight for him.
At that time furry 20-year-old straight stud Nick was a brand new discovery and he hadn't made many videos with them yet. Nick was the perfect pairing with Officer X because he's also quite hairy, almost like Officer X, although he's in his 20s, whereas Officer X is in his 40s in this video. Bobby, on the other hand, falls right in the middle, as far as his age goes. He is in his 30s in ways more than one.
Bobby was just so happy to have the opportunity to orally satisfy these two exceptionally hung and masculine straight men. You can tell he can't hide his exhilaration and smiles often throughout the video. Bobby was very thorough as the resident cocksucker, and kept slurping and sucking on those two huge poles like there was no tomorrow! The level of testosterone in that room was just sky high.
At one point, Nick and Officer X agreed that Bobby should definitely rim their hairy asses, as well. When Bobby eagerly complied with their request, and his face was buried under a set of hairy balls and his tongue was lapping on a hairy man-hole, Nick and Officer X gave each other a "High Five"!
Bobby started off by blowing both men while they were sitting on the sofa. But then they stand up and he sucks their huge fat cocks that way for a while. Nick was happy to let Bobby feast on his cock without getting too aggressive, although he directed Bobby's head onto his cock from time to time. However, Officer X was more demanding and pushed Bobby's head onto his cock more resolutely.
At one point Officer X knows that he's going to blow his load, and has Bobby lie on the floor while he dumps his jizz all over Bobby's chest. After a few minutes, Nick follows suit and shoots his copious load all over Bobby's chest (more on his left side). Bobby's smile in the end reveals everything!
We made sure to include quite a bit of this classic blowjob video in the EXTENDED PREVIEW VIDEO below, so if you like these NYSM blowjobs and jerkoffs, you should definitely check out the entire videos at their website.
EXTENDED PREVIEW VIDEO: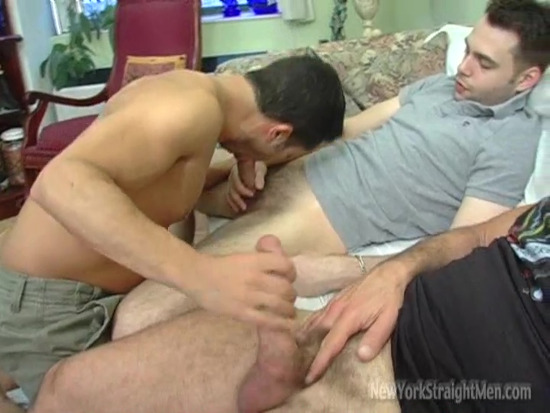 Click here to watch their entire video in HD quality at New York Straight Men!
New York Straight Men is the world's biggest collection of straight men getting their blowjobs from gay dudes! These men are usually truly straight but they love getting head from a gay guy because it feels so much better than whatever their girlfriends can do. These men are not the Hollywood type cuties, they are Real Men!