Today we are going to take a closer look at two young hot straight guys: Romeo Tilling and Rob London.
Romeo Tilling is a hot sexy straight guy with a cheeky smile and an adventurous personality. You can tell from afar that this guy is straight by the way he smiles with a naughty kinky wink in his face expression. He's definitely one irresistible straight hunk. He has played football for many years, and his legs have grown very muscular and hairy. And, as of lately, he started training at the gym as well, and his muscles are growing rapidly. His biceps are already quite impressive, and he's now in the process of shredding down for the summer.
Romeo was happy to show off his hot masculine body and to flex his powerful muscles in front of the camera before taking off his clothes completely. Romeo's cock looks pretty big even when it's soft, and when it grows to its full size it is definitely one pretty big stiff dick which can wreck some significant havoc!
He proceeds to stroke his big uncut cock until it's fully erect, and then he makes himself comfortable on the sofa, pulls his legs back, and shows off his hot hairy manhole!
When he's on the chair, he continues to stroke his big hard cock until he shoots his load all over his hand and cock and balls. The director then follows him into the bathroom where Romeo takes a shower to wash off all that sticky mess!
*****
Rob London is a hot sexy straight bloke in his early twenties, with a very cheeky personality and willingness to show off for the camera! He had already modeled for Fityoungmen (which is a sister site of Englishlads, and now he's on Englishlads for the first time.
Rob has some impressive tan lines, big powerful muscles, and what we love the most he has a lot of enthusiasm for showing off all his hard work in the gym in front of the camera.
Rob flexes his strong muscles, and show off his muscular white butt. He then takes off all of his clothes. It is obviously difficult for Rob to keep his hands off of his cock, and as soon as he has been given the green light to wank, he gets down to business and starts stroking it until he gets a big hard erection!
Rob's two best buddies are sitting in the background and encouraging him during his first appearance on English lads. Romeo pops up to help his mate out by setting up a new naughty video to play in the background. Romeo and Rob know each other very well and our best mates in real life.
When he finally gets himself comfortable on the chair, Rob proceeds to stroke his cock quite aggressively until he finally reaches the point of no return and shoots all of his jizz that he's been saving up for many days! The director then follows him to the shower where he washes all that sticky mess off of his hot body.
Romeo Tilling
Rob London
Preview videos: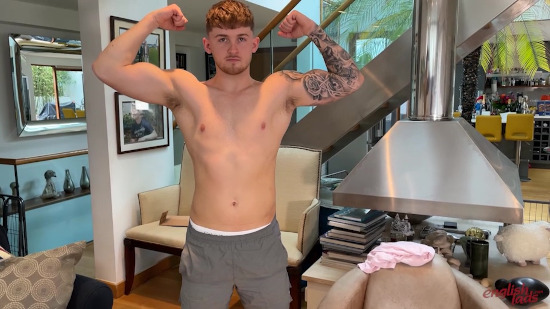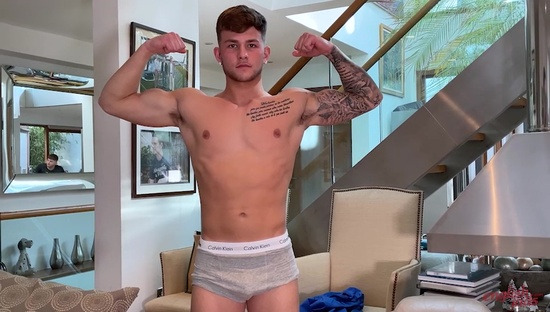 Click here to download their entire videos in perfect HD quality at EnglishLads!
English Lads is a fantastic site with loads of very manly, straight lads from England who love to show off and jerk off for the camera.  The guys that appear here are usually not found on any other site, so the content is quite exclusive. All movies are in HD quality.