Max is a good-looking straight guy who lives in New York. He works as a videographer for a small independent movie company. Max is a part time sporstman – he spends all his free time playing basketball and softball. He told me that he had never received a blowjob from a man before. He says he heard some rumors that guys can give the best head, much better than girls, and now he would like to check whether it's true or not!
Max has a girlfriend and I think she wouldn't be too happy with his idea to come for a blowjob here, but luckily she is out of town on a conference, and she won't be back for at least three days.
To tell ya the truth, Max was definitely excited by the prospect that a dude was going to service him. His dick sprang up and was ready for action in just a few seconds!
Trey proved to be a reliable cocksucker, and he took on this task as a special mission which has its special responsibilities. For instance, Trey thinks that the first blowjob that he gives to straight dudes has to be perfect. You know, so that they will keep cumming back. And of course, to validate the fact (not rumor) that guys do suck cock better!
Eventually Max blew a really big load and his cum oozed from his hand. Max said that this was the best blowjob he has ever had and that he is looking forward to coming again!
Short preview video: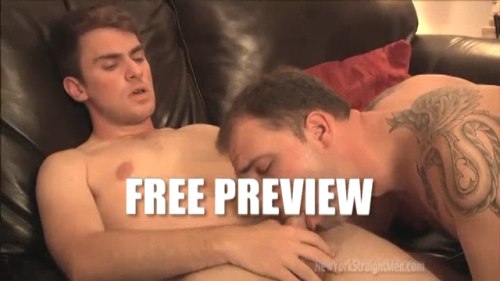 Click here to watch his entire video in perfect HD quality at New York Straight Men!
New York Straight Men is the world's biggest collection of straight men getting their blowjobs from gay dudes! These men are usually truly straight but they love getting head from a gay guy because it feels so much better than whatever their girlfriends can do. These men are not the Hollywood type cuties, they are Real Men!