Mike Boss – brown-haired, blue-eyed stud for this week – was all too eager to show us his
huge dick.
When he teased us with it during his audition, it wasn't quite at full erection. During his shoot, however, he releases all this testosterone and it was full throttle throughout filming.
He seems to get off with having a single finger probing his straight boy ass, too. Watch as he grinds the sofa, probing a finger then, and watch his dick get hard as he's humping. After moving to the kitchen for some more stroking, we get an under side view of that huge man meat as he teases us before heading to the bed.
As if the sofa humping weren't enough, he grinds the bed – again, probing his tight ass with a single finger – and when he rises up to reveal his fully boned cock, you can tell he enjoys the hell out of it.
Mike then stretches back on the bed, gets into some heavy meat-beating and blows a beautiful load of cum on himself.  Bet you wish you were there to slurp it up, then stare into those blue eyes…until he was ready to fuck.
Short preview video: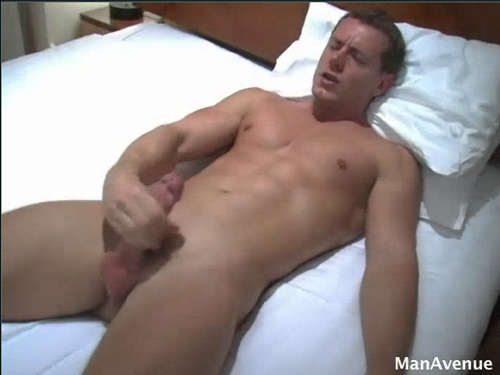 Why not do yourself a favor and watch this stud's entire movie and see for yourself what a truly nasty and hot motherfucker he is?

There are hundreds of hottest straight scoundrels on Manavenue, just take a look!