This has happened to me many times – I walk in the downtown during Summer time and it's just too hot so I have to sit down on the grass or some bench. Then I notice a hot stranger not far away that just did the same thing, i.e. sat on the grass. We exchange glances and there's little doubt that we are thinking the same thing, something along the lines of rolling in the grass together and enjoying each other's sweaty muscled bodies.
Well, luckily we can enjoy in this daydreaming scene now with two of the hottest and most masculine studs in the porn business – the Italian adonis Alex Marte and his American counterpart Spencer Reed.
What will happen after their eyes meet on a patch of grass where they lay on. The moment they close their eyes there is a movie inside their head. That daydream includes cocksucking, rimming, and some of the nastiest fucking you'll ever see. Nothing beats two beefy muscle gods getting down on each other in this way.
There are also some specialties such as a surprisingly good oral cumshot and lots of closeups on their big, throbbing dicks. Another epic movie from the Staghomme studios!
Short preview video: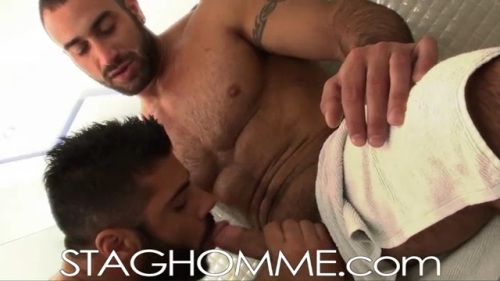 Click here to watch their whole video in perfect HD quality at StagHomme!
Staghomme is an amazingly fresh gay porn site from Spain with completely new and imaginative hardcore porn and hot, very masculine European men which you won't find anywhere else. This is not bland forgettable porn – it's something you will want to have on DVD and watch many times! They basically cover all the dirtiest fantasies you could ever come up with!