by Ben Daniels (Admin) on Oct.13, 2019, under CMNM
Rough hairy man Richard has just become a new debt collector. He's passed all the preliminary tests and has been given the stamp of approval by his boss. Check out his first days at work here and here.
Now when he's been accepted as a collection officer, Richard wants to impress his boss. He wanted this job so badly and now is the perfect time to prove his worth. He decides it would be best to return to the collection office with a sizable amount of cash that he's collected. Richard thinks that would be enough to secure his job position for quite some time.
However, as luck would have it, the sleazy business that he has been sent to investigate has a very dodgy boss that is keen on making a very unusual bargain with Richard. The sleazy boss and his pervy assistant make an offer to Richard that he just can't refuse!
Check out these pervy men's wanton adventures in their whole videos in HD quality at CMNM.
Clothed Male / Naked Male (CMNM) is a hot porn site where Nervous straight guys get stripped naked, groped and violated by fully clothed men.
There's nothing better than stripping straight lads completely nude, putting their bodies on display, and teaching them exactly how to submit! When they are in such a submissive position, one would be crazy not to use the opportunity and jerk them off.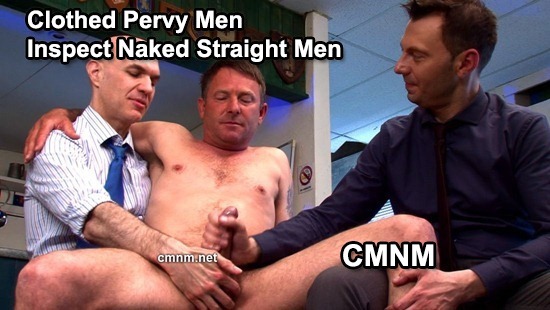 :beard, big biceps, clothed male naked male, debt collectors, dildo, hairy chest, inspected, inspecting ass, muscled, pervy men, police uniform, Richard, ripped, sleazy boss