Straight hunk Ty Roderick found himself tied up among the trees in some god-forgotten forest. He tries to call for help but nobody can hear him here.
First we just touch his body to let him know we are here (he is blindfolded and can't see us). Roderick gets a huge erection from this touching of his perfect body. He doesn't want it but his dick knows better. His dick is absolutely gorgeous – long, thick and hard.
We stroke his dick slowly but don't let him cum. As soon as we sense he's about to cum we stop stroking him. Nope, this hot straight stud must not be allowed to cum so easily. We want to edge him all day long. Roderick begs us to allow him to cum but we remain unmoved.
We beat him on the chest to make him shut up. These straight men are sometimes so vocal and loud, you just have to silence them from time to time!
Then we shove a big dildo up his ass. This makes Roderick even closer to cumming, but he's still not there yet. We position him in a vertical hogtie and edge him a bit more there.
More than anything else Roderick wants to spill his seed on the forest ground but we don't let him. We completely suspend him in the air and after that fuck him in the ass, then continue with the edging.
We put him on the ground and spread his arms and legs, so he can't touch himself. Finally we let him shoot his load, and after so much of slow torments he is utterly exhausted,
Preview video: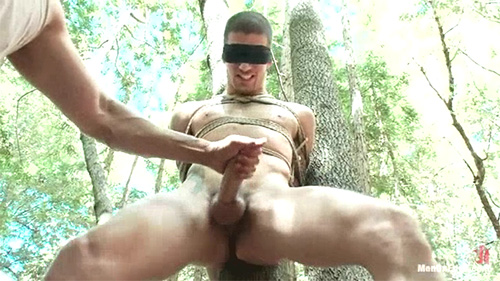 Click here to watch his entire video in full HD quality at Men On Edge!
Men on Edge is a new porn site that showcases hot, often straight men being tortured, tied up, and their cocks being stroked – all against their will. The tormentors don't let their captives cum too soon. Oh, no, they keep stroking them and then stopping abruptly, so that these poor captured men remain on the edge of cumming for quite a long time. Some men are forced to suck some very large dicks indeed.