by Ben Daniels (Admin) on Jun.11, 2018, under Military Classified
Cal is a hot young straight Marine who originally comes from East New England area, and is currently in California in the Military. As you would expect from a young straight guy like him, Cal says that no Californian pussy is safe from his giant dick. He says it is his sacred mission to fuck as many pussies as he can.
Truth be told, it wasn't easy to talk Cal into getting a blowjob from a guy, but Rob was persistent and after he replied to Cal's ad on Craigslist he continued to bug him for several weeks until Cal finally agreed. As usual, it was the right amount of cold hard cash that tipped the scales in the favor of receiving the Blowjob.
We don't want to brag about it, but you can't deny the fact that Cal was totally blown away by the quality of the blowjob he received. It seems that his girls are just not up to the task as we men usually are, as far as blowjobs go.
So Rob takes off Cal's camouflage pants and tells him to sit comfortably on the couch, while chatting with him casually about the time when he lost his virginity. Cal says that he lost his virginity at 13, and we must admit we are quite shocked that guys today lose their virginity when they are so young. In my time, the virginity was typically not lost at least until High School.
Rob told Cal to sit back, put his hands behind his head and to enjoy the pussy porno that he played on the TV. Cal was quickly lost in the pussy porn video that played on the TV, and his cock began to grow unrelentingly when Rob started to lick his crotch. Within seconds, this Marine's cock became as hard as Solid Rock when Rob took it into his mouth.
There is no denying that Cal was very impressed with Rob's oral skills, and he was really surprised that Rob was able to actually deepthroat his giant cock. That's a feat that no girl ever even attempted to perform. The truth is, most girls don't really even like to suck cock – it's like a chore to them, something like a necessary evil before sex. Not so with us guys. We really take blowjobs seriously, and we love to put all our heart and mind and attention into bringing satisfaction to our Straight Brothers.
Rob devoted due attention to every part of Cal's big shaft and cockhead. Rob told him to stand up and to fuck his face if he wanted to. Straight guys definitely love to Face Fuck a cocksucker, because their girlfriends would never allow them such pleasure. Cal was happy he could bury his dick deep inside Rob's throat and feel no remorse about it. Cal's attention now shifted from the pussy porn to Rob and his own cock, and it was obvious that he was nearing the point of no return.
Rob was utilising all of his skills at this point. At one point Cal warned Rob that he was going to bust his nut, and then the next second he did so! Poor Cal, he thought this was going to be a boring chore to earn some cash, and it turned out to be the best blowjob he ever received in his life!
Preview video:
Click here to watch or download their entire video in HD quality from Military Classified!
Military Classified is a well-known straight guy site that features lots of military men (marines, navy men, Air Force servicemen and an occasional civilian guy as well). At the moment of writing this mini-review there were more than 420 videos of various guys in the content area of the site! Of course, the guys are always horny and eager to bust a nut. While for some the primary motivation is money, there are also many guys that are curious to see for themselves if it's really true that men suck cock better. All in all, the guys are mostly straight, quite hot and masculine. Sometimes they show up in their uniform, but in most cases they come in casual clothes. Some people don't like the cocksucker here or complain about the site updating only once a week, but I personally don't mind about these things at all. I really like the young man on this site and despite the fact that they often appear to be somewhat confused or behave awkwardly (which is not unusual for straight guys in their first gay porn movie), they're among the hottest amateurs I've seen anywhere. The best advice I can give you is to check out the site and decide for yourself.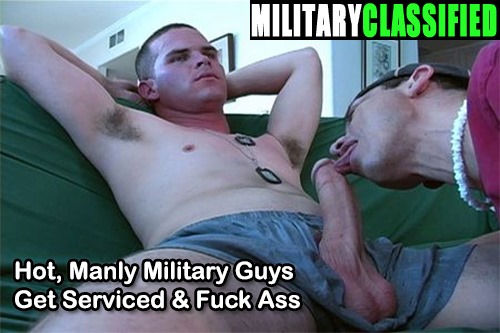 :big cumshot, blowjob, Cal, camouflage uniform, first gay blowjob, huge cock, marine, miliitary men, military uniform, Rob, Serviced, straight guys, thick cock