Gian is a well-known sporstman. He is particularly famous for his great diving skills and nicely toned, muscled body.
However, he has inadvertently broken his sponsorship contract and is now at the mercy of his sponsors. They remove his clothes and leave him only in his speedos that cling tightly onto his body.
The sponsors aren't gentle and want to examine Gian's asshole and inspect his nuts. The humiliated swimmer sobs and cries but to no avail. The sponsors want to inspect him so as to put him to his place again. He has to learn respect towards his investors.
Gian has become too conceited and got used to only be praised and worshipped by the masses, but now he is treated just like another male body whose usefulness needs to be determined.
Preview video: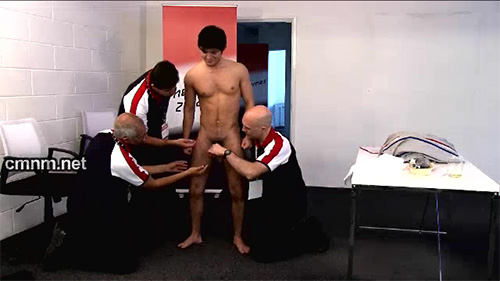 Check out these horny pervy mechanics & their whole videos in HD at CMNM now!
Clothed Male / Naked Male (CMNM) is a superhot porn site where Nervous straight guys get stripped naked, groped and violated by fully clothed men.
There's nothing better than stripping straight lads completely nude, putting their bodies on display, and teaching them exactly how to submit! When they are in such a submissive position, one would be crazy not to use the opportunity and jerk them off!