Rupert is a posh solicitor and he arrives to the local custody suit of the local prison to pay a visit to one of the prisoners. However, there are two cruel cops, Master Derek and Master Toby who think that the posh solicitor needs to be inspected as to whether he's carrying drugs for his client.
As soon as he was approached by the Masters, he dropped the brief as if it was something dirty. Derek puts on a pair of latex gloves to examine Rupert's anal hole for possible drug smuggling. He brutally violates his hole while he pushes fiercely with his fingers trying to find the concealed drugs.
Rupert finally submits to his new Masters and licks Toby's sweaty asshole upon the command.
Short preview video: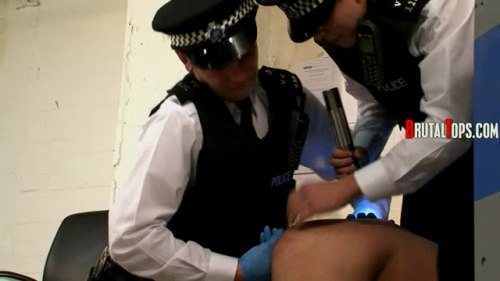 Download this and many other horny new BDSM videos at BrutalTops!
Brutal Tops is a fantastic site for lovers of the most ferocious sexually aggressive doms in the world. These dominant men love to give orders which have to be obeyed!