by Ben Daniels (Admin) on Jan.01, 2013, under GayCastings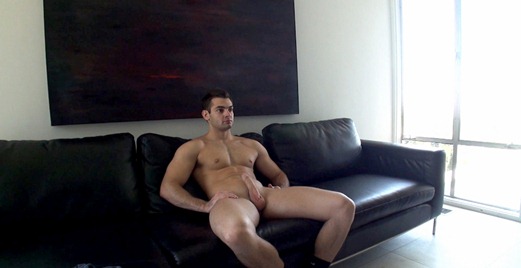 From time to time I get a really exceptional male specimen in my casting office. Don't get me wrong, it's not that other candidates are not good, far from it. But these special motherfuckers have something special. It's as if they were designed to be porn stars.
Scotty applied for the audition a few days ago and frankly I had no idea what to expect. His pictures were kinda blurry. However, as soon as he showed up on my doorstep I knew I had a certified 100% stud in front of myself.
Scotty is a Southern boy and the first impression you get from him is that he takes good care of his body. His biceps are huge and his whole demeanor is decidedly masculine. When I asked him if he had a girlfriend (or boyfriend), he said he was actually engaged. So, I guess in a few months time Scotty will be a married man!
Scotty showed me his ID card so I could fill out the paperwork. He says he wants to try his luck in porn, and obviously he's not quite aware of his own sexual appeal. He is confident but not nearly as much as I'd expect from someone with such a great body. Clearly he works out a lot and it shows. I asked him if he could flex his pecs for me and it was so cool and hot.
After that I asked him to take off his pants so I could check his main man muscle. And lo and behold, it is really huge and thick and when it got hard it looked absolutely impressive.
I told Scotty that I liked him a lot and that I thought that he could go very far in this business. But I added that I'd like him to get started today. I said he must show me how he usually jerks off. That's my usual sneaky tactic to get a hold of a straight guy's cock! And after some time, while Scotty stroked his big cock, I managed to grab it and give him a helping hand, so to speak. His cock didn't mind one little bit, but Scotty asked if that was a normal procedure, to which I replied, "sure".
All in all, Scotty was a great, muscular, big-dicked surprise and I really liked that boy. I hope we'll be seeing a lot more of Scotty in the future and I'm looking forward to his upcoming porn movies.
Preview video:


Click here to watch Scotty's whole video in HD quality at
Gay Castings!
Gay Castings is a brand new site that allows us to watch the real auditions of hot new straight guys who want to become porn actors in gay movies (i.e. "gay for pay"). Lots and lots of fresh new faces every time. Most of the guys are really straight, which is a plus. The casting director is a really hung muscular stud in his own right and demands that every prospective candidate demonstrates his ability to receive his big monster cock up their ass.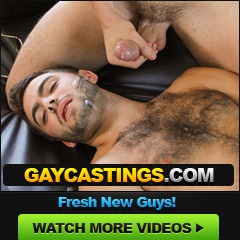 :Audition, Big Arms, big dick, big pecs, engaged, handsome, helping hand, hung, jerking off, masculine, muscled, naked straight men, Scotty