by Ben Daniels (Admin) on Jul.21, 2014, under BaitBuddies
Our new gay bait boy Jason comes from Georgia and he brought us quite a surprise with him. Namely, he found this young, tall, strapping straight stud whom he named "Magic Troy". And why magic, you will be able to see in this episode. Magic Troy is 6′ 6" (198 cm) and he's a proud owner of a 9-inch stiff thick cock! In addition to those highlights he is a handsome guy with deep blue eyes, strong muscular body and general macho attitude.
The "Magic" part of his nickname originates from his being a high school football star while he was still in his hometown. He personally felt that that environment was a bit too stifling for his energetic persona and on top of that he got himself into some trouble there so he wanted to get away from that place. Las Vegas sounded like a really good choice to begin with. But how was he going to make a lot of money now? That was obviously a part of the plan, and he needed something quick and efficacious. The most obvious choice for such a tall hunk was to join the male strippers in Vegas, and that's how it was.
He doesn't work that job anymore and he moved from Vegas some time ago. But he still dances (hip hop and break dancing). Believe it or not, Magic Troy makes a living by teaching ballroom dancing at the moment. His favorite dancing styles are tango and swing.
When he's not teaching dancing he lives mostly for his cars – he loves building cars and drag racing. He is still very much a rough bad boy as ever. But if you thought that he must be a stuck up, egotistic fellow, you'd be wrong. He's got a really quite cool, nice and positive personality. Both him and our new gay bait boy have never done anything related to porn in their entire lives, so this was a true first for them. In addition to that, Magic Troy has some experience with swingers and he has had sexual things with other women besides his girlfriend, but he never let his girlfriend mess around with other men. She had to be satisfied with the girls only. Fair or not fair, you decide. Although he always wanted to be a porn star, he didn't tell anything about today's shoot to his girlfriend.
Jason is also a cute young fellow and has a lot of interesting qualities, such as his nice cock and lean body, but I can bet that you'll be focusing your attention to Magic Troy in this movie. The guys take off their clothes and get their dicks hard in no time. Magic Troy thinks that there will soon appear a girl whom they will both fuck. But, alas, she never came. So after the usual story we get to see Jason getting a blowjob from Jason and then very awkwardly trying to suck Jason's cock. At first it was awkward yes, but very soon Troy "gets it" and starts sucking on Jason's cock very well. Later we asked Troy how it felt and he replied, "I didn't know what it would be like, but I didn't hate it… it was like a vanilla popsicle."
I guess what he really wanted to say is that he felt kinda indifferent towards the sensation of another man's cock in his mouth, neither negative nor too positive. Jason, on the other hand, was so eager to swallow and gorge himself on Troy's cock that if we left him there he would still be on his knees servicing Troy till the nightfall!
Then, there is some frotting action and kiss just a very wee tiny bit.  Well, let's move on to the fucking part.
Troy bends Jason over and starts fucking him doggy style, like a bitch. Then he turns him around on his back so he can fuck him deeper and more aggressively. Troy has some issues with his erection because he's still not used to fucking another guy. Therefore Troy pulled out and both boys just sat on the couch and jerked off to some straight porn. Troy became totally sweaty by the time he was about to shoot his load. However, it was Jason who came first, then he stared at Troy who continued to stroke his cock for a little while. Troy's cumshot was explosive and good. If you like tall brazen muscular straight boys I suggest you check out this video from Baitbuddies.
Preview video:


Click here to watch their complete video in HD quality at Bait Buddies!
Bait Buddies is a pretty hot straight guy site with plenty of updates and some very hot guys indeed. There is always a "bait" dude who is bi or gay, and a straight (or sometimes "straight") dude who needs to be seduced into gay sex.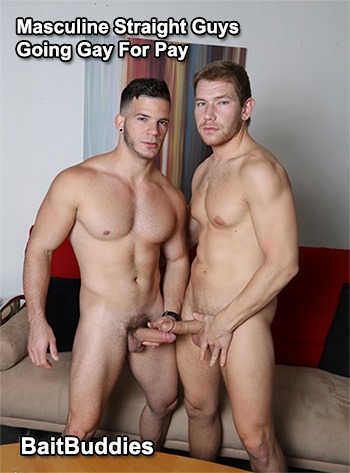 :big cumshot, blowjob, blue eyes, frotting, fucking, huge cock, Jason, jerking off, Magic Troy, muscles, straight men, stripper, tall dude, thick cock