Duncan is a super horny straight man who just can't get enough of sex. He is constantly trying to find new women to fuck. When there are no women available, he watches porn on his computer and jerks off like a maniac.
It's no wonder that this supercharged and oversexed hunk thought that becoming a porn star was a good idea. That's the perfect way to channel his strong sex drive.
Duncan is always looking to kiss hot women. Notice those pursed pink lips of his? They've already got accustomed to that position because he is always on the hunt for hot women to kiss and fuck.
However, today he had to obey the casting director's orders. He had to bend over and show us his hairy ass. Then the casting director told him to stroke his huge cock the way he usually does it. Man, this is a real stallion. I am already seeing that cock ravaging some tight pussy.
Unfortunately, he is so protective of his heterosexuality that he didn't allow any of us guys to touch him sexually. However, we made up for this lack of touch by ordering him to show us every inch of his masculine body and boy, oh boy, was it hot to watch him stroke that big dick of his. His cumshot was pretty big too, I loved the dull thumping sound his seed made while hitting the ground.
Preview video: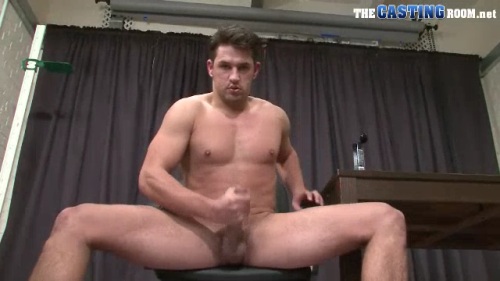 Click here to watch Duncan stroking his large cock and shooting jizz in his entire casting video in HD quality at The Casting Room!
The Casting Room (formerly known as First Auditions) is a great, original porn site that showcases young, cocky straight men who would like to become porn stars and make loads of cash. They think that they'll be accepted right away and be able to fuck lots of girls, but they don't know that our casting director is very strict and wants to fully inspect them during the audition. He orders them to get fully naked, show their ass, and jerk off so that we can clearly see the cumshot. Plus, we get to hear all their fetishes and what turns them on.