by Ben Daniels (Admin) on May.05, 2014, under TheCastingRoom
This video was made before Shamus and Alfie became well-known gay-for-pay porn actors. Actually, it depicts one of their turning-point situations when they had to choose between not complying and agreeing to have a man-on-man sex. It's such a great fun to watch this video as it's so funny and hot at the same time.
I have to admit, I like seeing newbie straight men getting their very first gay experience. In this video we get to see these two hot lads interacting with one another for the first time and we get to see their nervous reactions from one minute to another. Holy cow! It's so wonderful to enjoy the tension and the utter bewilderment that these two straight guys are just going through.
Neither of these masculine men has ever fucked another man, but they fucked many women in their lives. That's one more reason to kick back wherever you are, take your popcorn and start enjoying the hottest spectacle that you'll ever see – two newbie straight guys during their very first gay sex experience.
In the beginning, the two guys are kissing each other. There's already an air of doom in the air because we all know that something gay is going to happen soon to these two decidedly straight guys. The guys rub each other's beard against each other's face and soon enough they lose their clothes. Naturally, their cocks grow and get hard pretty fast and we can see them rubbing their cocks against each other.
Shamus was particularly fast in growing his erection and his cock stands proudly erect for anyone to see. Alfie was a bit more nervous, so he needed a bit more leeway to get hard. So Alfie puts on some spit on his cock to wake him up. Alfie gets on his knees and starts servicing Shamus' cock. Shamus' cock ain't small so Alfie often gags and can't take that manmeat all the way without problems.
The two straight men then proceed to rim each other's straight virginal asses, trying to ease them up and prepare them for something special. I can sense that some hard cock penetration is about to happen and so can these two guys.
Alfie sticks his hardened member deep inside Shamus' hole and starts fucking him raw and hard. Needless to say, these two straight guys acted as if they discovered sex for the very first time in their lives. And that's saying something, because it was partly true – all the heterosexual sex that they had until that point in time was completely uninteresting and bland when compared to this amazing new feeling!
Shamus is the first to shoot his load while Alfie is still fucking his hetero ass. After several seconds Alfie follows the suit and pulls out and shoots his wad, too. Alfie's cum splatters all over Shamus' pretty masculine face and Shamus even catches some of the cum into his mouth.
I think these two straight guys learned their lesson well and now they know that pleasuring another man is something that shouldn't be taken lightly. It's a serious job and brings serious satisfaction if it's done the right way! Both guys admitted to have enjoyed in this weird new action and said they'd probably try it again.
Preview video:


Click here to watch his entire casting video in HD quality at
The Casting Room!
The Casting Room (formerly known as First Auditions) is a great, original porn site that showcases young, cocky straight men who would like to become porn stars and make loads of cash. They think that they'll be accepted right away and be able to fuck lots of girls, but they don't know that our casting director is very strict and wants to fully inspect them during the audition. He orders them to get fully naked, show their ass, and jerk off so that we can clearly see the cumshot. Plus, we get to hear all their fetishes and what turns them on.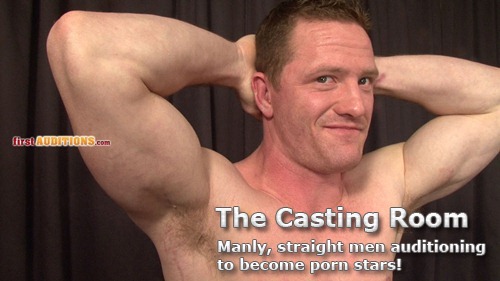 :Alfie, Audition, beard, cumshots, facial hair, first gay blowjob, first gay fucking, hairy chest, Shamus, straight men