Here in this imaginary country torn by civil war and hard times, we find a military base in which a young guy is held captive. The soldiers in the camp noticed Standa while he was trying to steal their military vehicle.
The soldiers are furious with the young lad and want to teach him a lesson in honesty and discipline, so that he never ever considers doing the same again. This morning young, handsome officer is on duty and he got real horny from all those wet dreams about his girlfriend. He wants to nut, but the hand is so boring. He wants to find something better as a jerkoff material. The soldier goes to the prison and finds a young captive. The soldier thinks the captive is kinda cute, although he's straight he can't help getting horny from the mere thought of fucking such a cute young ass.
The soldier humiliates the boy by spitting in his meal, and when the boy refuses to cooperate, the soldier takes him outside by force and ties him to a lamp post.
The soldier kisses Standa and then starts groping his nuts and limp dick. He derides the young boy and shoves a big dildo in his mouth. The boy is helpless when overpowered by such a strong masculine man. What will happen with the young lad? Is it time to say goodbye to his virgin ass? Probably, but let's find out in the full video.
Preview video: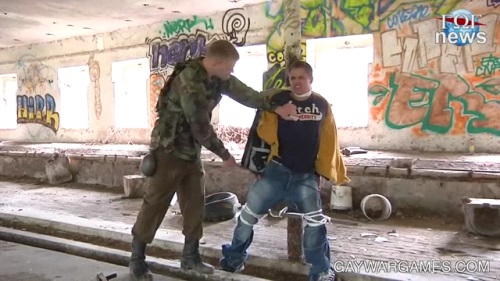 Click here to download their entire military video in HD quality at GayWarGames!
GayWarGames is a Russian bareback porn site with a distinct military theme. It has been around for some time, but lately the soldiers are really hot so I wanted to give you guys a preview of what you can find there. The tops are really straight-looking, mean dudes in camo uniform, and I must admit they defo turn me on. I am a sucker for soldiers and military uniform and these uniformed motherfuckers certainly push all the right buttons. The action is set in a fictional country called Thukistan. Apparently, young boys often get abducted by mean, sex-starved soldiers here and get brutally fucked bareback. Hot stuff.