Hot, masculine and aggressive soldier has captured Roman outside and dragged him to the old barracks. The General decides he would also attend the interrogation of the young prisoner.
Now these two rough soldiers start to torture, kiss, and humiliate young Roman. Never in his young life did he dream that he would experience something like this, although he always dreamt of being fucked by handsome military men. As the saying goes, "be careful what you wish for, because you wish may come true."
The soldiers whip out their hard dicks from the camouflage uniforms and shove them straight into Roman's mouth. He is forced to swallow their entire shafts and eat the precum that drips from their cockheads. The soldiers are extremely horny, they haven't seen a woman in years and they would fuck just about anything now.
The soldiers manhandle Roman, kicking him with their dirty combat boots and grabbing him with their strong, rough hands. The younger soldier takes off his top and pushes his big hard cock in Roman's mouth again. No mercy for the young prisoner, and I have an inkling that this is just the beginning and that these mean soldiers are going to fuck him hard soon.
Preview video: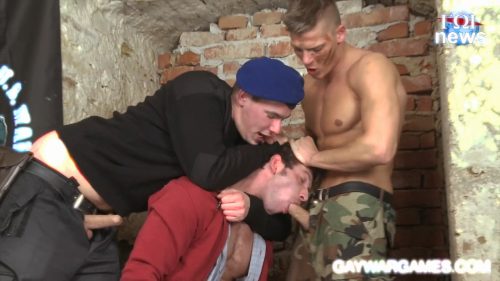 Click here to download their entire military video in HD quality at GayWarGames!
GayWarGames is a Russian bareback porn site with a distinct military theme. It has been around for some time, but lately the soldiers are really hot so I wanted to give you guys a preview of what you can find there. The tops are really straight-looking, mean dudes in camo uniform, and I must admit they defo turn me on. I am a sucker for soldiers and military uniform and these uniformed motherfuckers certainly push all the right buttons. The action is set in a fictional country called Thukistan. Apparently, young boys often get abducted by mean, sex-starved soldiers here and get brutally fucked bareback. Hot stuff.