Jet is one of those guys who can cum several times in a row, time and again. It's something that I really find hot to look at, because it's a proof that the guy is really enjoying whatever he's doing.
And today I decided to pair Jet with Vander, so we have two of my favorite guys together. There was no script or any suggestion as to what the guys will be doing. But I hinted to Vander that Jet can cum many times if he's horny enough and if he is properly "taken care of".
Vander wanted to bottom for a bit, but as soon as he realized he could make Jet cum several times and that I didn't lie about Jet's special ability, Vander switched into the full fuck mode and just fucked Jet throughout the video.
This video doesn't contain many different positions, just Jet lying on his back and Vander fucking him. Believe it or not, Vander managed to fuck the cum out of Jet 7 times in a row!
The first time Jet cummed he was still lying on the sofa while Vander was nailing him with his monster cock. When Jet cummed, Vander came closer and ate up all the Jet's sperm.
Then Jet bends over and lets Vander rim his ass a little. If you thought that Jet's dick would go limp after blowing his load, you would be wrong. Jet stays hard and his cock doesn't go soft at all! Must be that Vander's huge fuck stick that had a magic influence and just didn't allow Jet to go limp!
Anyway, after the brief rimming session, Vander continues to fuck Jet and Jet cums 5 more times. Out of these 5 last cumshots, only one seemed like he didn't shoot his semen very far, but the next one was a regular cumshot where he squirted his cum at a distance.
Vander later told me that Jet's repeated cumming made him so horny that he could fuck him like that all day long. Add to that the fact that Vander would usually eat Jet's load and then kiss Jet with the Jet's cum still in his mouth, and you get the idea where these two nasty hot boys were going.
Believe it or not, this video contains eight (8) cumshots, seven from Jet, and one from Vander. Of course, Vander cummed onto Jet's ass and shoved it inside to breed him.
Needless to say, this is a very hot video, and for those who like cumshots (and especially multiple cumshots from the same person) this is a must watch.
Preview video: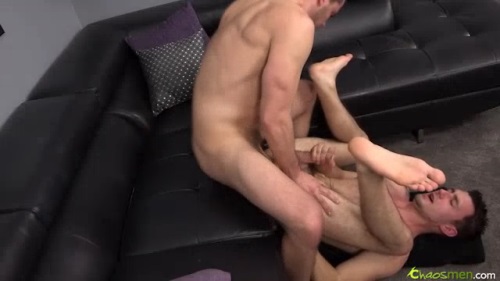 Click here to watch their entire video in HD quality at Chaosmen!
Chaosmen is a great porn site that features hot straight and bi men getting serviced or fucking their mates bareback for some cash. This site is exceptional and very unique because almost every single fucking is bareback and ends with gorgeous internal cumshot or creampie.