by Ben Daniels (Admin) on Aug.24, 2014, under Chaosmen
Since the very first Cooper's video I have been having these fantasies and combinations in my head about pairing him with Vander. But so far their schedules just never matched. They are both very sexual guys, who can use their sexuality quite intelligently and aggressively and effectively. In other words, they can bang it and go away as if nothing special had happened. It's just sex, it's part of life and being human.
However, I knew there was a slight problem – both Vander and Cooper are mostly tops and although I knew that Cooper would make a sacrifice and bottom for Vander, I knew that wouldn't be such a great option. Add to the equation one more superhorny guy – Wren – and things just got even more interesting. Wren is mostly a bottom and he can take even large ones without any issues. What's more, if Wren doesn't have a huge cock up his ass, it's unlikely he can even maintain a solid erection. But, stick a large pecker deep inside his ass and things change quite a lot. Since Wren is a bit of a size queen, I knew that he would certainly like to receive Vander's wondrous huge cock. At the same time Vander can be a pretty good top when he has such a cock-craving bottom to fuck, so I knew that would certainly be a good choice. And then Cooper could fuck them both (including Vander) – that would be just what the doctor ordered.
We find all three guys lying on the couch with their cocks already fully erect. Vander is in the middle, Cooper to his right side and Wren to his left. They are both kissing Vander while his cock is standing there in all its magnificent glory like a huge thick club. Both Vander and Cooper are preoccupied with pleasuring each other. Meanwhile, Wren is trying to deep throat Vander's cock, which is really a very commendable endeavor. Cooper is intrigued by Wren's attempts to swallow that monster cock and he leans down to help him where he can… Cooper also swallows Vander's cockhead and gives it a good licking. Wren also offers his cock to Vander to feast on it while Cooper is still preoccupied with Vander's prick. One can tell that Vander definitely appreciates this combo: Cooper's warm mouth on his cock and Wren's hard cock in his mouth.
Then Cooper stands up and gives his hard cock to Vander to suck it. Meanwhile, Cooper is kissing Wren and Vander finds himself with two erect cocks near his mouth – which one will he take first? Can he swallow both at the same time? It turns out Vander prefers to suck one cock at a time, though, but both guys are kept quite hard by his cocksucking skills.
Now Vander lies on his back and lets Wren sit on his face. Meanwhile, Cooper starts rimming Vander's asshole, trying to prepare it for the upcoming hard fucking. Now Wren moves nearer to Vander's cock and swallows it while Cooper is still taking care of Vander's ass. Alas, Wren is now impatient and would really like to get his ass pummeled by some hard dick, it's high time! So Wren turns around and offers his ass to Cooper, who quickly sticks his dick inside. This position allows Vander to suck both Wren's and Cooper's cocks at the same time – Cooper's cock while it's fucking Wren's ass and Wren's dick that is throbbing at the same pace as dictated by Cooper's fucking.
Cooper now positions Vander so that his ankles are in the air so he can drill his ass from a different angle. Wren is still feasting on Vander's dick while watching Cooper's rod being shoved deep inside Vander's hole. Eventually, Wren impales himself on Vander's cock while Cooper is still fucking Vander. So now we have a complete sandwich, with Vander in the middle of it!
Of course, with three horny guys it's no wonder there were many other interesting positions, but we can't get into so many details right now. Suffice to say that the grand finale was truly grand – Wren was the first to cum while Vander was drilling his ass. Cooper is the next to follow with his cumshot that sprinkled Vander's cock through and through while Vander was still fucking Wren. Cooper's cum gets quickly inserted into Wren's hole by Vander's thick monster. Now Cooper turns around and offers Vander his ass to lick, hoping this would make him cum faster. And soon enough, Vander shoots his load into Wren's hungry asshole. Both Cooper and Vander lick Vander's cum from Wren's ass and then swap that cum while kissing each other.
Preview video:


Click here to watch their entire blowjob video in HD quality at Chaosmen!
Chaosmen is a great porn site that features hot straight and bi men getting serviced or fucking their mates bareback for some cash. This site is exceptional and very unique because almost every single fucking is bareback and ends with a gorgeous internal cumshot or creampie.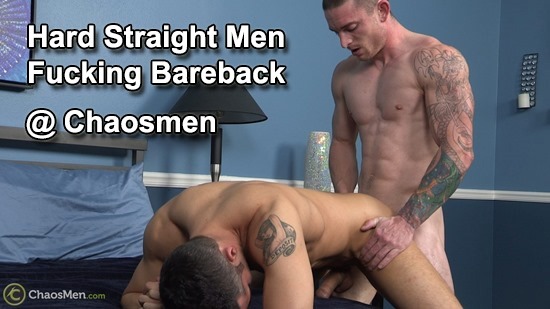 :3-way, bareback fucking, Breeding, Cooper Reed, creampie, facial cum eating, flip flop fucking, hairy chest, kissing, monster cock, muscled, rimming, smooth chest, twink, vander, Wren