by Ben Daniels (Admin) on Aug.18, 2013, under BreederFuckers
We continue our story about hot, young arrogant hetero lad Aiden who used to be one of the cockiest and most self-assured motherfuckers you could find, but now things have changed. In the last episode we saw how he enraged two cruel dominant men, Dave and Adrian, when he asked them money for the feet massage. The two cruel men are massage therapists and they think it's utterly arrogant of him to ask money from them for the service they provide. Actually it should be the other way round. So they decided to teach this lad some lessons about respect.
Aiden's training is far from over. This spunky cocky straight lad needs to be taught to respect men that are stronger and more masculine than himself. Today he realizes he's in real trouble: when he woke up he saw that his mouth was taped over and he cannot move.
The cruel Masters Dave and Adrian are lie beside him on each side and their hands are touching and groping his smooth tender body. Suddenly the cruel men's hands tear apart his pants and fully expose his genitals. Poor Aiden can only squeal and moan, but to no avail! The cruel Masters want to proceed with the painful training no matter what.
First, the Masters attach chops sticks to his testicles and dick. The poor boy continues to cry, but nobody pays attention to his pleas. Then they attach clothes pegs to his nipples, and command him to suck Dave's dick. Dave focuses on Aiden's pretty face while Adrian suddenly removes the tape off his mouth, so that Dave can penetrate the boy's throat with his big engorged cock. Dave continues to face-fuck poor young lad until Aiden's face is totally blushed red and his eyes seem to want to pop out. Aiden's eyes fill with tears and they are dripping down his face profusely.
Aiden is forced to lick his Masters' asses as well. Dave shoves his cock in Aiden's throat and face fucks him. Then Dave pulls the boy's legs in the air and fucks his little tight asshole. Meanwhile Adrian is fucking Aiden's face.
The poor boy gets both his holes – mouth and ass – filled with cum. The boy swears and talks all kinds of horrible things, but the cruel Masters are utterly unmoved.
Now this young straight lad is totally demolished and will never be as arrogant as before. He has learned to be respectful towards stronger Masters.
Preview video:
Check out the latest videos with arrogant straight guys being turned into obedient cocksuckers at Breeder Fuckers!
If you prefer your porn to be on the kinkier side, you should definitely check out Breeder Fuckers (formerly known as Straight Hell). Breeder Fuckers is a premium fetish site devoted to hot straight guys being tormented, humiliated and treated without mercy by big, mean & aggressive studs!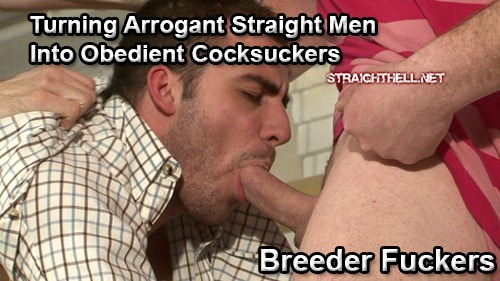 :Aiden, BDSM, Cruel Masters, domination, face fucking, fucking, groping cock, humiliation, Master Adrian, Master Dave