Ever thought or desired to be fucked by one of your good straight mates? Right there and then while he is in your room, perhaps chatting with you about his girlfriends. I mean, just to demonstrate what he really meant by that sexual pose..? Errrm, yeah, I think we've all done that.
Meet Doug Mitchel. He is a straight and pretty hairy stud. He is overflowing with testosterone and assertiveness. He made a porno shoot with his brother last time, and now he tells about that episode to Josh. As soon as Josh heard about this odd turn of events, he doesn't hesitate one minute to try to push Doug's boundaries even further.
Josh takes Doug's sweater and starts to caress and kiss his beautifully muscled and hairy body. He sucks on Doug's nipples waiting to get his main prize, which is, of course, Doug's massive cock!
Next second, we see Josh wrapping his lips around Doug's big, fat and pulsating cock. Doug seems to be in the fucking frame of mind, and tells Josh to turn around, bend over so he can fuck him. Josh got more than he bargained for, because Doug fucked him really hard, almost frenetic. Josh begins to enjoy his new, aggressive straight top and savors each thrust that Doug makes while pounding his ass. Suddenly Josh says "Fuck me some more!" after Doug seemingly discovers the secret place which makes Josh fly high.
Josh tells Doug: "For a straight boy, you really know how to fuck some ass". He is riding Doug's dick and starts shooting his cum all around himself. Finally Josh gives a helping hand to Doug who shoots a really huge load squirting cum in all directions.
Preview video: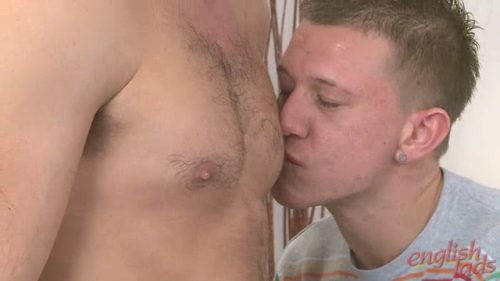 Click here to watch Doug & Josh's entire video in perfect HD quality at EnglishLads!

English Lads is a fantastic site with loads of very manly, straight lads from England who love to show off and jerk off for the camera. All movies are in HD quality.