by Ben Daniels (Admin) on Aug.01, 2013, under CFNM
We continue the story of Ambassador's young assistant James Farquharson, who took it upon himself to entertain the female guests at the Ambassador's luncheon. You can read the previous part here.
James thinks that the ladies will appreciate his naked body. But the ladies are more inquisitive and eager to experiment with his male body than he initially thought. So he offers them his ass to experiment with it. The women are now interested to see his cock hard so they tease him until he's grown a large erection.
James' cock is quite big and all those women's hands touching him down there didn't help matters. Soon enough James finds himself unable to stop the upcoming orgasm. The ladies don't care about what he's thinking about and just stroke that beautiful big cock of his. After some time James shoots a nice big load all over the plate and the ladies are shocked and pleasantly surprised at how big the cumshot turned out to be and how hot his cock is while spewing jizz.
Click here to watch their whole video in HD quality at CFNM (Clothed Female/Nude Male)!
Clothed Female Naked Male (CFNM) is a very hot site for lovers of truly straight guys. It's a little tongue in cheek but the men are fuckingly hot!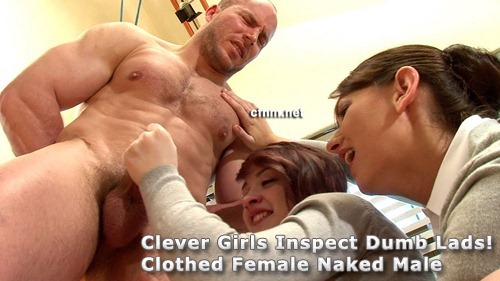 :Anal Probing, assistant James, big cock, cumshot, Fingering Ass, hairy asshole, milking service, pervy females