by Ben Daniels (Admin) on Dec.19, 2014, under Chaosmen
Like we said in one of the previous updates, Raymond is a totally straight man but he has had his cock sucked by a few guys in the past, because they were so insistent. He had to watch some pussy porn on his cell phone while getting serviced, so you can imagine how his sexual desire is pretty much completely oriented towards women. But, he told us that he'd like to experiment more with guys and we think we found just the right person for the job – Griffin!
Griffin is also straight and it's always interesting to watch guys like him making their first steps in this direction. Griffin also wanted to offer a full massage job for our daring straight man Raymond. We left some pussy porn playing on the monitor just in case, and Raymond did look at it from time to time, but as the time went by he started to enjoy the actual massage and blowjob more and more, in other words – to be present in the moment.
Griffin didn't look like he was a complete beginner as far as massage thing is concerned – he's quite skilled at it. Raymond is a beefy muscular guy but you can tell that he was nervous – his muscles were all stiff and badly needed a massage anyway. Little by little, Griffin reaches Raymond's ass cheeks and spreads them fully. This was all new for Raymond, and he resisted at first, but later gave in and started to enjoy it.
Raymond assumes the doggy position and Griffin takes his cock in his mouth. Griffin never loses sight of Raymond's ass, though, and you can tell he's going to take care of it as well, sooner or later. I can bet that Raymond couldn't believe that all that was actually happening to him, and he must have had thoughts running through his head such as, "Is this really happening?"
Eventually, Griffin takes Raymond's large cock with his both hands and this proved to be a winning combination because it quickly made Raymond cum! Griffin made sure to lick up every single drop of Raymond's spunk. So there you have it, another straight guy gets fully serviced. And although he thought it wouldn't be possible or enjoyable, his cock certainly didn't have such issues!
Preview video:
Click here to watch their entire serviced video in HD quality at Chaosmen!
Chaosmen is a great porn site that features hot straight and bi men getting serviced or fucking their mates bareback for some cash. This site is exceptional and very unique because almost every single fucking is bareback and ends with a gorgeous internal cumshot or creampie.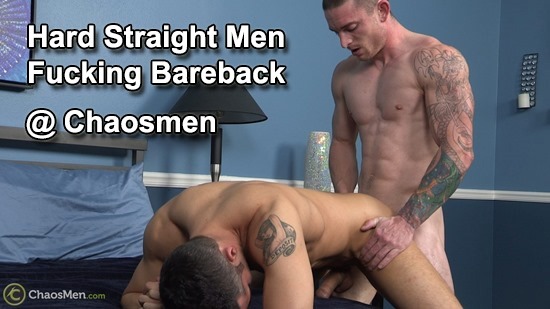 :Ass Eating, beard, blowjob, cum eating, gay for pay, Griffin, hairy chest, handsome, mature men, muscles, Raymond, rimming, Serviced, straight men, tattoos