by Ben Daniels (Admin) on Aug.13, 2013, under HardBritLads
Here we have a perfect union of the opposites. On one side is beefy and manly stud Matt Brooks, who is also a top. And on the other side we have chav Jay Dawson who also sports a rather large dick. The two men surrender themselves to carnal pleasures that involved rimming, fingering and some really nasty hard fucking. Also let's not forget the glorious facial cumsplattering.
Matt Brooks is a hot stud with defined muscles, handsome face and nice stiff cock. He usually wears trackies and that's how he came today as well. The man simply likes to be in his trackies before he fucks a dude. Matt and Jay Dawson start kissing each other and groping each other's crotch area. Pretty soon they both have nice big boners which they whip out of their tracksuit bottoms. Then they remove their t-shirts and start licking and kissing each other's nipples. You can notice that Matt's cock is pretty stiff and thick, and oozing with precum. That dick really needs to fuck. Matt is the first, however, to start sucking his partner's dick. He gets on his knees and swallows the entire Jay's cock. He deepthroats that big dick and makes some very swift moves. You can see Jay's eyes filled with tears while he's swallowing Jay's pole, it shows you the effort.
Matt forces Jay to get on his knees and gives him his dick to suck. Jay is having some difficulty taking Matt's cock in its entirety because it's so big and thick, especially at the base. But Jay is also a great cocksucker and he does the job pretty well. But this is all just to prepare Jay for some deep, forceful face-fucking.
The two men take the position on the sofa, and Matt lays back pushing his cock in Jay's mouth. Now Jay's mouth gets fucked quite aggressively by Matt's raging dick.
But Matt is still keen on exploring the depths of Jay's super tight ass. So Matt slaps Jay on his ass and eats his ass for some time to prepare him for his penetrating dick. In the beginning Matt is sitting in one corner of the sofa, his dick firmly in his hand and pointing to the ceiling. Jay just sits on it and starts riding it. Next, Jay is leaning against the sofa while Matt is behind him. Matt shoves his dick in Jay's ass again and fucks him slowly, but he then realizes he probably wouldn't last for too long like that, so he increases the pace and fucks Jay really fast and hard.
Jay doesn't want it to end so soon, so he lays on his back now and Matt is on his knees. Matt penetrates Jay again in this position, holding Jay's legs apart and again fucks him hard. Then Matt slows down the pace so that Jay doesn't cum too soon. Then Matt starts fucking Jay hard again, and this obviously brings Jay to the very verge of the orgasm. Jay's cock is hard and throbbing and it took only a few strokes to start squirting big jets of hot jizz all over his chest. I liked this cumshot so much that I included a slow motion version in the full movie as well.
Then Matt pulls out and goes over to Jay's face to spray him with his cum. It didn't take long for Matt to start spewing his hot while load all over Jay's face and inside his mouth. Then Jay licks and cleans up Matt's pleasure sword from all the cum.
Preview video:
Click here to watch their entire video in perfect HD quality at Hard Brit Lads!
Hard Brit Lads is a relatively new porn site that features only the most masculine and well-built straight and bisexual guys showing off and fucking the shit out of each other. The videos are well-made and shot in HD. Don't miss out lots of amazing, manly men!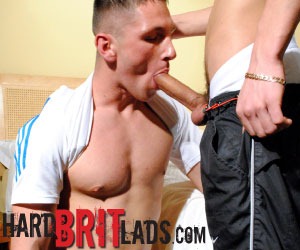 :aggressive top, anal sex, beefy, big cumshot, big dick, blowjob, facial cumshot, Jay Dawson, Matt Brooks, thick cock