Toby and Bobby work in a posh hotel whose manager has some very specific demands as far as his employees are concerned. Tony is a new employee and Toby and Bobby took it upon themselves to show Tony how the hotel staff is expected to behave.
The feisty boy tries to hit their hands away, and it was in that moment that Toby and Bobby realized that this new boy needs to learn a lesson.
They make him bend over and strip down his pants. They take a good look at his buttocks and discuss its merits. Namely, the hotel customers usually demand to see their bellboy's ass from time to time, as it is actually a part of the service that this hotel provides. Whenever the young boy carries the luggage to their room, the customers will have the opportunity to ask him to show his ass and his other manly assets.
It is only now that it dawns upon Tony that this job of a bellboy will be quite different from his other similar jobs, and that it's all about complete subservience and obeying the customer's wishes, no matter how pervy they may be.
Preview video: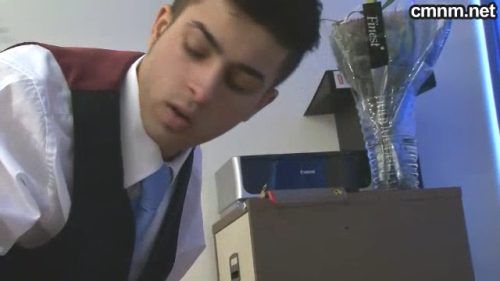 Check out these pervy men's whole videos in HD at CMNM now!
Clothed Male / Naked Male (CMNM) is a superhot porn site where Nervous straight guys get stripped naked, groped and violated by fully clothed men.
There's nothing better than stripping straight lads completely nude, putting their bodies on display, and teaching them exactly how to submit! When they are in such a submissive position, one would be crazy not to use the opportunity and jerk them off!