by Ben Daniels (Admin) on Jan.02, 2014, under TheCastingRoom
Jaime is a hot, masculine straight man in his prime years. He has a slightly mean or aggressive look about him, which reminds me of people who practice martial arts. Unsurprisingly, he does play sports, but he didn't want to tell us which ones just yet. Fair enough.
Jaime admits that he really, really likes to watch the dirtiest porn that one can find nowadays, and naturally, it was only a matter of time when he decided that he had to try his luck in porn as an actor as well. TheCastingRoom is the very first place where he decided to come, and we're honored to have him here.
He takes off his shirt and pants to show off an extremely well-built, muscled body with the most perfect six pack abs I've seen in a long while. They are so hard it's unbelievable. Jaime also has a great, stiff and upright cock that literally begs to be seen in porn!
Jaime says that several of his gay friends "warned him" that in case he decides to try gay sex, he might not be able to stop doing it, it's that good. Well, I'm familiar with that "theory", but I think it's just an exaggeration, or an urban myth. Not that gay sex isn't good – on the contrary – but the whole thing about making parallels between gay sex and drug addiction is just bullshit.
Anyway, Jaime told us that he's ready to try man-on-man sex, providing the whole experiment is well paid. I can guarantee you that finding a suitable partner for this horny straight man won't be a problem at all, in fact I already have a few ideas about the potential lucky guys that could do the job.
Preview video:


Click here to watch his entire casting video in HD quality at The Casting Room!
The Casting Room (formerly known as First Auditions) is a great, original porn site that showcases young, cocky straight men who would like to become porn stars and make loads of cash. They think that they'll be accepted right away and be able to fuck lots of girls, but they don't know that our casting director is very strict and wants to fully inspect them during the audition. He orders them to get fully naked, show their ass, and jerk off so that we can clearly see the cumshot. Plus, we get to hear all their fetishes and what turns them on.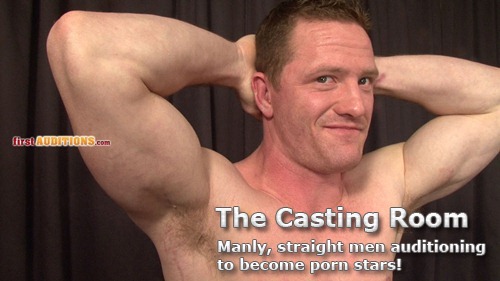 :Audition, big dick, boxer, cumshot, hairy ass, Jaime, jerking off, masculine, muscled, showing asshole, showing off, straight men