It's time to take another look at two hot bodybuilders and friends in real life: Rigo and Judah! These two buddies make another appearance on Islandstuds and they're hotter than ever. Rigo is a beefy bearded boxer, with a nice uncut cock, while his buddy Judah is a smooth army veteran, with a nice big cut cock. We could enjoy their bromance and antics in their first appearance about a year ago, and we're happy to report that their bromance is still very much alive today, as well!
The two buddies strip down to their super tight and sexy matching red undies, which are barely able to contain their huge thighs and big butt cheeks. They keep mooning the camera and showing off their powerful asses. Judah's ass is thick and smooth, while Rigo's is hairy and one of those Latin bubble butts you can't forget. Then they take off all of their clothes and continue to admire each other's massively muscular naked bodies. There's quite a lot of posing, flexing muscles and hugging each other while their boners are touching. Judah's dick is uncut, while Rigo's is cut. As is the custom on Islandstuds, we get to watch them wearing floral Leis around their big pecs and chest in the outrageous Hawaiian Hula Show. They each fucks a Hawaiian Pineapple Toy with their hard bushy pulsating cocks. It's a real competition between two bros: the two muscle studs compete in pumping the iron while sporting full erections! They even spread their butts by grabbing the butt cheeks with both their hands and fully reveal their virginal supertight manholes!
The competition continues outdoors, with both men jerking off side by side, comparing their dick sizes, man bushes and parading their big balls for the camera. Then, they proceed to power jack off together, stroking their own cocks and eventually they both shoot huge loads all over their ripped bodies!
After that they both head straight to the shower for an extended, sexy shower session. They lather up their ripped bodies, which accentuates their beautiful brown skin. It's a super sexy shower session with lots of joking and sexy chit-chat between two good buddies.
Judah is a Special Forces Army Veteran. He is 24 years old, his height is 5'1" (155 cm) and he weighs in at 210 lbs (95 kg). Unfortunately, he had an accident in which he broke his back while Parachuting in the service, because his parachute didn't open during a training exercise! That accident could have left him permanently disabled, as the doctors told him he could never walk again. However, this accident didn't manage to break Judah's spirit and he vowed to himself to fully recover and to become a competitive bodybuilder!
Rigo is a construction worker, with a pleasant soft-spoken voice. He is 25 years old,  weighs in at195 lbs (88 kg) and his height is 5'9" (175 cm). He was born in Mexico with a Spanish Mother and Mexican Father, although he grew up in San Francisco Bay Area before moving to Oregon. Although both men are HUGE, this video is a study of contrasts: On one side we have friendly, talkative Judah with lighter Hapa Latin skin, a big fro on the head hair he ties back in a ponytail, somewhat hairy chest, perfect cock and smooth butt. And on the other side we have soft-spoken Rigo with deep dark Mexican skin, short and cropped, military-style hair, trimmed beard, hot interesting tattoos across his furry chest, hairy legs as well as a super hairy bubble butt.
Preview video: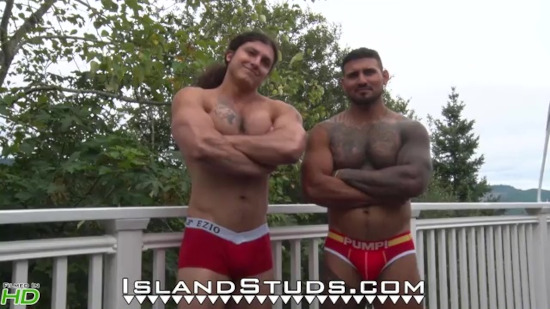 Click here to watch their entire movie in HD quality at Island Studs!
Island Studs is a great, new, and refreshing porn site that features hot guys from Hawaii. These bad boys have no problem with showing off their beautiful, toned body and hard cock. Watch them as they do their usual chores against the stunning backdrop of Hawaiian nature!