by Ben Daniels (Admin) on May.08, 2014, under All American Heroes
Have you noticed? Our superhot soldier Miles has made a big change – he shaved off his huge epic beard! And I really can't decide whether he looks better with or without a beard. Actually I like him in both "editions", each one gives a slightly different view of his hotness.
Miles was in the mood to talk about his many adventures that transpired while he was in the Army. For instance, he told us about a little anecdote when he and his buddies were in the Austrian Alps and one day they got a bit too much of good ole Schnapps. Well, things easily get out of control when a man has been drinking alcohol, so imagine Miles' surprise when he woke up four days later under a bridge in Luxembourg! Obviously, this hot soldier isn't afraid of getting into adventurous actions and he really likes to have lots of fun. Owing to many years of hard physical training, Miles' body has become very strong, muscled and generally looks awesome in a rough kind of way. On top of that he has a really handsome face and a magnificent huge stiff dick to boot.
Miles has only recently acquired some sexual experiences with other men – since he has started working for our website. Although primarily straight, Miles admits that it's often great fun to do gay things and one of his favorite "experiments" is to play with toys, especially big dildos. He says he experimented with them even at home, and I'm happy to hear that he feels confident and relaxed enough to show us what he has learned about the asshole stretching techniques so far. He says he hopes he'd be able to put even much bigger things up his ass this time round.
But first, Miles gives his big dick a little stroking action. He pulls his camouflage pants to his knees and we can see that his weapon is already hard as steel, fully erect and ready to fight. He takes his cock into his hand and starts rubbing it in not-so-gentle manner. His rough manly hands know how to deal with that weapon for sure! After some time he takes a vibrator from his bag that measures about 5 inches and shoves it into his ass – just like that, it went in really fast and without any problems. He pushes it deeper and there's already a big smile on his face – damn, it must be such a great new feeling for these straight guys when they discover the anal pleasures for the first time.
His ass now begins to stretch and open a bit, but that 5-inch vibrator obviously isn't cutting it anymore and he reaches for another, bigger toy. He puts on some lube onto a really large (8-inches long) blue dong and pushes it into his arse all the way. We can hear his soldier's grunts and sighs while he's fucking his prostate with that large dong. His thrusts are fast and resolute and I can tell that this guy just loves extreme things in life. Would he enjoy being fucked by a real dick just as much as he is enjoying with this toy? Questions, questions…
And now the last trump card up his sleeve – a huge 12-inch dildo which is difficult to even grasp with a big manly hand such as his! He lubes it up and tries to relax a bit by taking in deep breaths, then puts it between his military boots and ass crack. He tries to open his ass and accommodate the massive dildo inside. If he could shove only the tip of it, it would be good he thinks to himself. He lets out a loud scream as the giant toy enters his ass. "Ahhhh, fuck!" he utters and the ass-aggressor finally penetrates his military ass.
At long last, after his ass has had a proper workout, Miles kicks back on the sofa and jerks off his massive schlong until he shoots a totally epic, HUGE load that resembled a geyser of cum! It shot straight into the air and hit him on his shoulder after having been pulled down by the gravity. Damn! Soldiers are really among the best of the best. Who can compare?
Preview video:


Click here to watch his entire videos in HD quality at All American Heroes!
All American Heroes is a very cool military site with all kinds of uniformed men (firefighters, military men, lifeguards etc.). It's an unmatched and unavoidable destination for all lovers of hunky, hot uniformed guys who like to blow their loads and fool around with their buddies.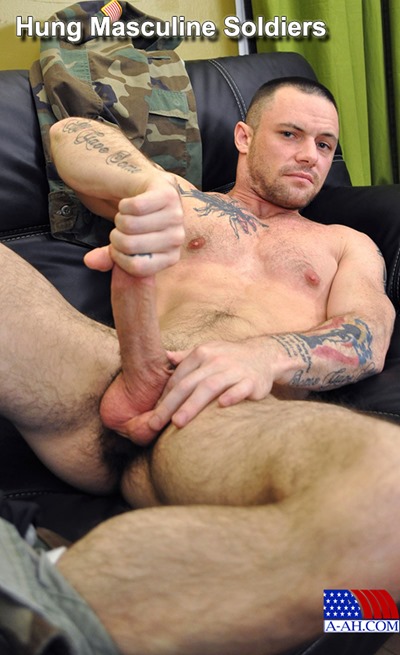 :big dick, buzz cut, camouflage uniform, dildos, handsome, jerking off, Massive Cumshot, Miles, military men, muscled, Soldier, straight guys, tattoos