by Ben Daniels (Admin) on Jun.02, 2014, under All American Heroes
I don't know about you, but in my opinion Sergeant Miles is a naturally born porn star. He looks awesome both in and out of uniform, and when he fucks he really knows what he's doing. We wanted to find a suitable match for him among the civilian men who we work with, and finally we settled on handsome, dark stud Latino Reid.
Sergeant Miles started to train Reid from the get go, giving out orders and demanding of him to stand at attention. As per usual, Sergeant Miles yells a lot so that he makes himself absolutely clear to his disciple. Reid must do push-ups in the proper way and Miles even puts his combat boot onto his back, between his shoulder blades to make the exercise more difficult.
Then Miles goes behind Reid and makes Reid place his arms out to the side, trying to resist the pressure that the strict Sergeant is exerting as a counterforce on his arm muscles. Reid really tries to obey Sergeant Miles but makes a little mistake. Namely, he calls him "sir", which is not something to be expected from an enlisted man. Sergeant Miles gets angry and increases the difficulty of the workout regime. When Reid finally breaks down and can't continue anymore, he is given one final order – to get totally naked, to get on his knees and service Sergeant Miles' huge military cock!
Miles' cock is half-hard and he's not entirely satisfied with Reid's cocksucking performance, so Miles orders Reid to sit down so he can demonstrate how a man should suck another man's cock. Reid's cock is not small, and when Miles tries to deepthroat it it causes the gagging reflex, but Sergeant Miles is undeterred and continues to suck it deeply and professionaly, simply to make a point to the young recruit – that a job has to be done well, always. Miles even does a thorough search of Reid's ass, then orders him to get back on his knees and suck his cock properly.
Miles got pretty horny and now he wants to fuck some ass. He orders Reid to impale on his erect dick and start riding it like a cowboy. There's a brief moment of the two men kissing and something that seems like exchanging emotions, but then it's rough sex again. Horny aggressive sergeant grabs Reid, carrying him with the strength of his muscles in the air and impales him onto his cock again. He fucks him this way for some time, pounding Reid's ass and pushing his dick balls deep. It's a nasty aggrressive fuck scene, and then Miles pulls out and shoots a massive load of jizz all over Reid's perfect six pack. Since Miles' cumshot was pretty explosive and the cum flew in all directions, Reid stuck out his tongue hoping that he might catch a drop or two in the air.
Now Reid stands up and pushes his own cock into Miles' mouth who receives it willingly. After a few moments Reid unleashes a big torrent of semen that hits Miles' tongue and splatters across his cheek as well. Messy cumshots and rough fucking with a muscled, hung, masculine uniformed man, what can be better than this?
Preview video:


Click here to watch their entire videos in HD quality at All American Heroes!
All American Heroes is a very cool military site with all kinds of uniformed men (firefighters, military men, lifeguards etc.). It's an unmatched and unavoidable destination for all lovers of hunky, hot uniformed guys who like to blow their loads and fool around with their buddies.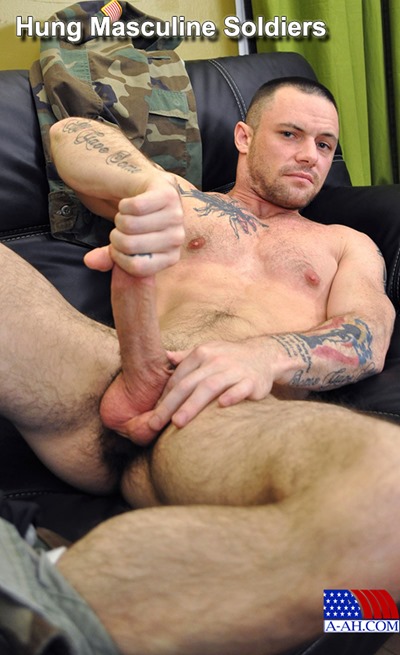 :aggressive fucking, big cumshot, big dick, blowjobs, combat boots, facial cumshot, Latin Reid, military drill instructor, military uniform, muscled, Sergeant Miles, tattoos, Workout