by Ben Daniels (Admin) on Jun.02, 2014, under Manavenue
Joshua X is our brand new straight stud with whom we made a very hot video. Joshua X has a perfect, muscled, ripped body that every man could be proud of. He has invested years of hard work in the gym and playing sports to make his body look so fantastic and he certainly has a right to be proud of it. He admits that he likes to show it off knowing that other people will get horny and probably jerk off to his hot video. He's also very handsome, in a rugged manly kind of way, and wears a three-day scruffy beard. That's exactly the type of rough straight man that we love to feature on this blog!
Joshua X begins his jerkoff session by kissing his big, bulging biceps and admiring his strong, muscular body. He is still wearing his wife beater and trackies. He pulls the wife beater a bit up to show us his perfect six pack abs. No fat to be found there, at all. He shows his ripped chest, too, while playing with his crotch area. He's really strikingly handsome. He takes off his shirt and continues to flex his muscles. Now he shows us his back, which is also very strong and impressive. He shows us his ass, and slaps it several times with his hand.
He takes off his trackies and pulls down his shorts so we can see his asshole. He has shaved off his ass, so we can see the hole very well. He keeps on flexing his muscles, it seems he really gets horny by just looking at himself. There's a mirror on the wall and he can watch his own reflection as well.
Now he finally takes off his shorts and we can see that his cock is fully erect, and throbbing. He still flexes his arms and kisses them, while at the same time playing with his big, fat cock. He strokes it a little bit, but frequently returns to flexing the muscles. Now he puts one foot on one bed and the other on the second bed so that his legs are somewhat apart, and we can get a better view of his fully erect fuck stick. He strokes it some more, looking at his reflection in the mirror. His cock never goes down, it's always stiff as rock.
He continues to jerk off, first with just two fingers, then with his left hand a little. He stands on the bed on his knees so we can see his cock from this angle, and it defo looks very impressive. He strokes his dick faster, kisses his biceps, and keeps jerking off.
He lies on the bed, pulls his legs up in the air so we can see his ass well. He plays with his ass and slaps it from time to time. His fingers find a way to his ass crack, massages it, and puts a few fingers a little inside (timidly – I suppose straight guys don't like the idea of anything going in their ass). He continues to massage his asscrack…
He stands up and walks around the room with his cock still fully erect. He stops at one place and jerks off while standing. He strokes his dick faster and faster, and we know he's now about to cum. Soon enough he shoots his load, one big squirt of cum is shot and several smaller ones follow. He groans and moans while his semen is being squirted. Damn, I am certainly looking forward to seeing much more of this amazing, manly stud!
Preview video:


Click here to download his entire video in HD quality at Manavenue!
Manavenue is an exceptionally good porn website that features masculine, cocky, muscled, powerful straight men, the type of guys that grab your attention while you're secretly ogling them in the street or in a supermarket. These tough motherfuckers are aware of their sexual appeal and want to show you everything they've got.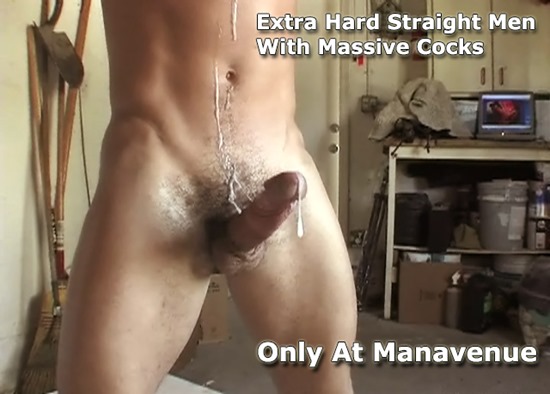 :beard, fat cock, flexing muscles, handsome, jerking off, Joshua X, manly men, muscled, ripped, rugged, showing asshole, stiff cock, straight men, stud, walking with erection