As soon as we put these two boys together I noticed they began touching each other, probably thinking that we were already filming them. They got some nice tents in their pants as a result of this unplanned turn of events.
Trey is the first to go on his knees and suck Spencer's cock. Spencer seems to enjoy his buddy's mouth and starts to face fuck him. Spencer is pretty hung so I wonder how Trey felt about this.
Now it's Spencer's turn to return the favor, and the big, muscular, ginger stud begins to suck Trey's dick. Spencer is always a very ardent cocksucker when he puts another man's cock in his mouth, so it was kinda expected, although I always love to watch him giving his best to satisfy his mate. He slobbers on that dick and puts a lot of spit on it, so this was defo a wet, sloppy cocksucking.
Trey comes for the second serving of Spencer's big pole, but Spencer didn't let him have it for long. Spencer puts some lube on Trey's ass crack. Trey is on his back with his legs high up in the air. Spencer is eyeing Trey's exposed hole and suddenly just shoves his dick down there, without any warning.
"Oh, fuck," Trey groaned and squealed. Spencer is a pretty mean fucking machine so he doesn't really allow his bottom boys to have their say during the fuck action. Spencer stick his entire shaft into that hole so that his balls are now hitting Trey's butt. Trey was in some pain obviously because he clenched his teeth trying to ride it out. However, it passed soon enough and he took it like a man.
Trey manages to grab his own cock and wanks it from time to time, but Spencer continues to assault his ass with unswerving resolve. Now the pain is completely gone and there is just pure pleasure instead. Trey is talking all kinds of shit and swears a lot. Soon enough Trey's dick erupts and he shoots his load. His entire belly gets sprayed with his jizz.
Spencer does not stop fucking Trey, though. He wants to empty his balls inside that ass no matter what. But since he has a condom he fills it with his load. After he fills the condom he pulls out and dumps the content of the condom on Trey's torso. Then Spencer rubs it into Trey's skin. Speaking of which, did you know that sperm is an excellent treatment for skin?
Preview video: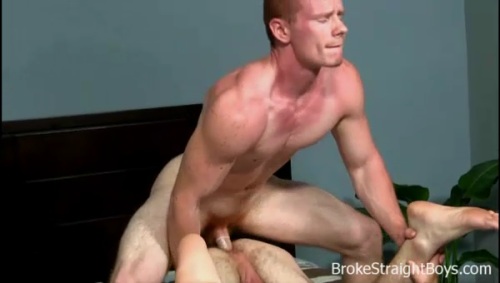 Click here to download their entire videos in perfect HD quality at Broke Straight Boys!
Broke Straight Boys is one of the classic straight boy sites that features hot straight and bisexual guys who are ready to sacrifice their hetero reputation and straight virgin ass and engage in some hot and nasty hardcore fucking. New movies have totally new guys which look awesome!