by Ben Daniels (Admin) on Apr.04, 2015, under SUCKoffGUYS
The weather is getting better with each day and Aaron and Seth are outside enjoying the beautiful morning. They're eating their lunch in a mall while people are passing by. Suddenly, a hot masculine guy passed by them and Aaron fixes his eyes on him. The hot looks back at Aaron and in that moment Aaron used the opportunity to ask him "would you be willing to donate a load of your jizz for a worthy cause?" The man is a little surprised by the odd question but remains cool and asks, "what's the cause?" Aaron replies that the answer is simple, it's his "cum addition." Duh! If he had known a thing or two about Aaron and Seth he wouldn't have had to ask such questions. Seth interrupts their little chat and says, "he's not kidding. He'll swallow your spunk right now".
The hot man is obviously intrigued but "there's something rotten in the state of Denmark" comes to mind in these situations…. he quickly retorts, "no man, I don't even know you guys, plus I'm into chicks, not dicks". Seth is still optimistic and gives him a business card with their details, and then he tells the hot man that in case he changes his mind he's free to come over their office and have some fun in the "Cum Club" with them.
And although Seth and Aaron thought that the hot man would never come, within a few minutes he was there in front of their office, knocking on the door. Who would have expected that? I guess men are curious creatures, especially when a free blowjob is promised… it's not something to be refused without good reason! Seth explains to the man that he can remain anonymous and that they're only interested in his cock. The camera won't record his face…
Aaron quickly gets down on his knees and whips out the man's cock… and what a pleasant surprise! The sexy man's cock is really huge! Thick and massive, certainly a first class dick – every cocksucker's dream cum true! So after all it's true what they say about tall and slim guys… they usually have a big one in their pants. Just so you know.
The hot man was obviously extremely horny because his cock grew to its full size in a matter of seconds. Aaron was just warming up to thoroughly enjoy that big slab of manmeat when the sexy man proclaimed, "Oh shit, I'm gonna cum!" Aaron is undistracted and continues to suck and stroke that beautiful cock using all his expertise and skill. After a few minutes a rather large squirt of warm cum shoots from the hot man's throbbing cock and hits Aaron's mouth. Like every good cocksucker Aaron is still totally focused on the job at hand and continues to suck and swallow whatever may come his way. More jizz squirts follow and Aaron manages to catch them all in his hungry mouth. Damn, that was a lot of jizz and Aaron has swallowed it all. Defo a good cocksucker.
The hot man took their business card and went his way. I have an inkling that he would be back one day. He knows where he can get free professional blowjob and he's got the card now.
Preview video:
Click here to watch their complete video in perfect HD quality at SUCKOffGUYS!
SUCKOffGUYS is a very interesting and hot amateur gay porn site that focuses on blowjobs, cum eating, cumshots, cum play and all things cum! The site owners are obviously total cum pigs and it shows. Be sure to check them out if you're into beautiful hard cocks, blowing stiff rods and sperm in all varieties.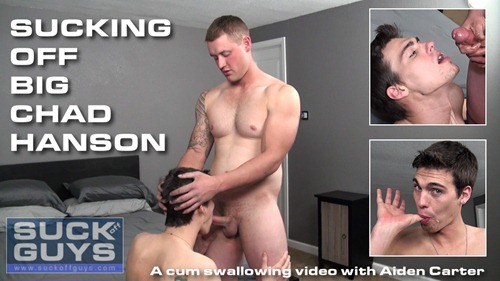 :Aaron French, anonymous straight guys, beard, blowjob, cum eating, huge cock, Serviced, straight men, stroking cock, thick cock