by Ben Daniels (Admin) on Apr.03, 2015, under BaitBuddies
Girls have always been crazy about Caleb, a hot muscular stud who works as a truck driver. And no wonder, because this ripped man oozes masculinity and big positive manly energy in all possible ways. Not only is he really strong with impressively huge muscles, he also has an impressive big dick to boot! It's pretty think and measures no less than 8 solid inches of hard manmeat. Over the years he's come across at least two girls who were totally down for a full sex with him at one of the stops, and he's also fucked a "hot lizard" (that's a trucker's slang term for stop hooker). He told us that some whorehouses even have ads on a local radio and when called they send their vans to service the horny sex starved truckers.
Toby is our bait boy and he's been salivating over Caleb for quite some time, actually since we showed him Caleb's pics. Funny thing is, last time we had Toby he played a straight boy because that's how he really felt at the time. Back then he was a simple straight country boy who had never tried anything with another guy… not even fooling around with another guy. So the casting director told him to go home and ask his girlfriend to experiment together with some dildos. She seemed to be surprised by that weird idea, but she loved it… so much so that she put a strap on and fucked Toby's ass that way. After Toby recovered from the initial pain and shock, and his ass stopped "vibrating", he concluded that he actually liked it! These days it was their anniversary (Toby's and his girlfriend's) and since girls love expensive presents Toby figured he could make easy cash by shooting a porno for us again. Since he liked getting his ass plowed by his girlfriend's dildo, he figured it can't be much different when a guy sticks a real dick up his ass.. so he agreed to get fucked by Caleb. Toby was probably intrigued by Caleb's massive dick as well.
When the casting director told the boys to get naked, Caleb quickly dropped his pants and his cock rose to the occasion quickly. It was just as big and impressive as on the pictures. Of course, as it usually happens, the girl doesn't show up… so what are boys going to do now? The only way for them to earn money is to have sex together… but will Caleb agree? It looks as if he's really against the idea, but the casting director is very persuasive… besides, Caleb's main motto is "you should try everything twice" so let's see how he fucks a guy's ass.
Toby quickly gets hold of Caleb's massive dick and doesn't let it go till the end of this shoot. At first he just strokes it with his hand, then he swallows it like a pro. Hey, perhaps the art of cocksucking just comes naturally for us guys anyway, because we all know what a cock needs since we all have one. 
Caleb's face expression at this moment is one of a kind – check it out. He looked angry, shocked and surprised all at the same time. However, his cock wasn't either nervous or confused – it grew quickly and within seconds filled Toby's entire mouth. Toby was encouraged by this "quick growth" and just kept on sucking on that cock as if his life depended on it.
But what we liked the most was probably the kissing session – the guys spontaneously started exchanging hot passionate kisses, and it really seemed as if they both liked what they were doing. In a way I'm sorry that the casting director told them to "get on with it" because if we left them at that we would perhaps now have a hot erotic movie.
Of course, Toby hasn't forgotten Caleb's gorgeous cock and he quickly gets back to servicing our big trucker. Toby certainly liked the idea that his straight cherry would be taken by this really muscular and manly truck driver. So he didn't protest too much when Caleb started to penetrate his tight little ass. Inch by inch, Caleb's entire manmeat slowly went inside Toby's virgin asshole while Toby was bent over in the doggy position. Caleb was obviously rather gentle with Toby at first… perhaps since he had never fucked a boy's ass he figured he'd better be careful? Anyway, after some time Caleb gets into his regular fuck mode and plows away that ass much faster.
After some time Caleb is close to cumming and we can hear him saying "I'm gonna cum!". He pulls out and squirts a large load of jizz all over Toby's erect dick and balls. Toby follows suit and shoots his load all over his chest and stomach. There's also "After the shoot" part which is sort of an outtake which we really liked and there you can listen what the guys thought about the whole thing in the end!
Preview video:
Click here to watch their complete video in HD quality at Bait Buddies!
Bait Buddies is a pretty hot straight guy site with plenty of updates and some very hot guys indeed. There is always a "bait" dude who is bi or gay, and a straight (or sometimes "straight") dude who needs to be seduced into gay sex.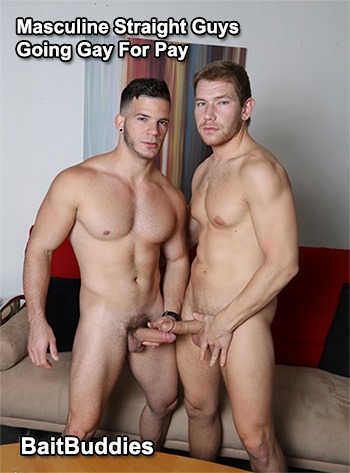 :blowjob, Caleb, fucking, gay for pay, handsome, huge dick, muscled, ripped, straight men, tattoos, thick cock, Toby, truck driver