by Ben Daniels (Admin) on Jul.13, 2015, under Like-Em-Straight
Josh Peters is a very muscular, blue-eyed straight dude. He's a real brawny country boy type  from Kentucky hills. Being a horny man pretty much always, he couldn't resist Baitbuddie's ads which promised lots of chicks and lots of money. Josh is very much into fucking girls, and he uses any opportunity to dump his load. According to his own calculations he has fucked no less than 100 women and he's always eager to find more. However, at the moment his girlfriend is good to him, and he intends to stay with her as long as the love is there. Besides, his girlfriend seems to be very kinky – reportedly, she's into leather, bondage, S&M etc. On the other hand, Josh isn't vanilla either. He has a definite exhibitionist streak and likes to take photos of himself and post them online. The attention he gets can certainly get him off. I think that the new bait guy, Rico, was the right choice for this beefy straight boy. Rico's made some porn earlier, but when casting director Caruso saw his model application which read, "I like big and tall guys, especially those with a hairy chest.", Caruso knew right there and then that he had found a perfect match for Josh.
Josh seems a bit startled by the whole porn set, camera and props. It is his first time to be doing something like this, after all. I'd say that even his face got quite reddish while he was answering Caruso's questions in the introductory interview. Rico likes straight guys more because there is an "unknown" factor about them… one can never know if he'd be able to seduce them or if he does how good it would turn out to be. But this is all like an extra fun factor and Rico loves it.
I must admit that Josh looks pretty impressive when he takes off his clothes. All those ripped muscles are certainly a sight to behold! Caruso tells the boys to whip it out so that they can do a boner test. Josh is pretty ripped himself and looks very sexy in a decidedly masculine way. Both guys told us that their dick measures 8 inches, but Josh's doesn't look that big because of his huge muscles that literally dwarf everything in comparison.
Anyway, Caruso brings "the bad news", about the girl allegedly not being able to come, and offers them additional money if they agree to have sex with each other. Josh isn't terribly happy with this and at first refuses to cooperate. Rico and Caruso join forces and try to talk Josh into giving it a try, and that it's not a big deal anyway… just like any other job. Rico starts stroking Josh's cock and it gets hard in a matter of seconds! "I don't know if I can do this – I've never done anything with a guy before", complains Josh. However, since Josh's cock has already made the decision instead of its owner, it just makes sense that Josh will agree eventually. The guys take each other's cock in their hand and we can watch some mutual handjob action.
The ice has been broken and we can now hope to see much more from these two guys. Josh gets serviced by Rico, and if you pay close attention you'll see that Josh moans as if it was his very first gay blowjob. The guys exchange kisses, and it seems Josh loves this part a lot! After the video was over, he told us for the interview that he definitely liked this part because it was kissing with a guy, which is considered a taboo but it was so passionate.
Josh then gets on his knees to return the favor and sucks Rico's cock. The initial plan was that Josh should fuck Rico, and RIco was very eagerly awaiting for that to happen. But as luck would have it, he turns out to be a bottom when paired with men, so Rico fucks his ass instead. It turns out that Josh is not totally new to anal pleasures. Namely when asked if his girlfriend ever put her little finger down there, Josh says shyly "maybe she did". Later he admitted that she already fingered his ass several times and he liked it.
Josh then lubes up his ass and Rico fucks him doggy position. Rico quickly pops his cherry, exclaiming "Oh, he's tight". Josh is moaning and there's definitely a grimace of pain on his face, but Rico quickly switches to a more gentle fucking mode. Slow deep fucking is the best, especially for inexperienced straight boys like Josh. Josh then turns onto his back and Rico fucks him in that position. This time, however, Rico was able to fuck him much faster as Josh's ass adapted to his cock. Eventually, Josh yells and shoots a few squirts of warm jizz all over himself. Rico pulls out, takes off the condom and shoots his load onto Josh's stomach. Yet another ripped straight man is officially deflowered!
Preview video:
Click here to watch their complete video in HD quality at Bait Buddies!
Bait Buddies is a pretty hot straight guy site with plenty of updates and some very hot guys indeed. There is always a "bait" dude who is bi or gay, and a straight (or sometimes "straight") dude who needs to be seduced into gay sex.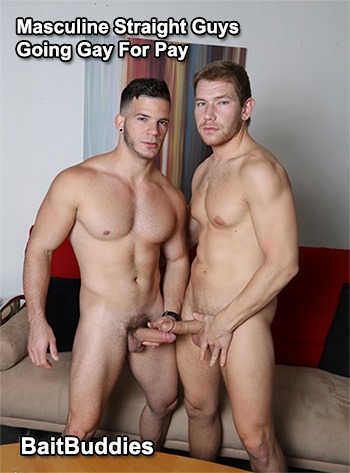 :beefy, blonde hair, blowjob, fucking, gay for pay, Josh Peters, muscles, Mutual jerkoff, Rico Romero, ripped, straight men