by Ben Daniels (Admin) on Aug.10, 2015, under MissionaryBoys
Elder Miller and Elder Peterson are standing next to each other and there's a deafening silence in the room. They both wear their proselytizing clothes – the white shirts and characteristic ties which make them recognizable from far away. However, they quickly change their clothes and, before you know it, they are wearing quite transparent white robes which reveal more than what they hide. These transparent clothes are a mandatory requirement when the boys engage in special, secret erotic rituals that are performed in the temple.
President Wilcox has given the order that all the elders must join him at the temple on Sunday, which is the time when the temple is closed to the public. The only instructions that the Elders have been given is that they should get ready for initiatory ordinances of washing and anointing them. The mission president and Elder Peterson have officially informed Elder Miller about the general things that he should expect during the initiation. Since Elder Miller has known the president for quite a while, he thinks this new information is kind of superfluous. But the protocol must be fulfilled. There's no doubt in anyone's mind that the upcoming ritual will be very sexual and informal. The protocol says that the sexual rituals are to be performed only in the temple, and only by an ordained minister who has the proper credentials. Another specialty of these rituals is that they have to be spoken word for word. In case any word is mispronounced or omitted, the officiant is obliged to start the whole process from the very beginning. President Wilcox thinks that these rituals are very important and always takes the responsibility upon himself whenever he can.
He gestures to Elder Peterson to make himself comfortable just outside the small veiled area where Elder Miller's washing is to be performed. President Wilcox has an aura of dignified sobriety about himself, and you can tell that this seriousness and covert sexual tension gets easily transferred to the boy who is standing before him. He says to the boy: "Elder Miller, today I will clothe you in the garment of the holy priesthood. Having authority, I will wash and anoint you according to traditions given anciently. We will begin with your head."
President Wilcox is a mature and very handsome man. Elder Miller's thoughts are running at light speed through his brain: at one moment he focuses on President's big manly hands, at the next moment many imaginary sexual images run through his mind, including those where the President is touching his body, as well as his private parts. He knows that the man will start from his lips, then proceed to touch his neck, stomach and crotch area. That's what the other boys told him, but they couldn't tell him more. Elder Miller is confused by his thoughts, and unsure of what is going to happen next exactly. Will the President grab his cock and jack him off? Or maybe he might even take his dick into his mouth and deliver an amazing blowjob? That would be definitely a great thing to experience, Elder Miller thinks to himself. Elder Miller is certain that he would shoot a giant load which will splatter all over the mission president's face. Even though the president hadn't done any of these things, the mere thoughts were enough to get things going, and his dick starts to uncontrollably get hard, which soon becomes all too obvious through that transparent underwear.
Truth be told, Elder Miller has always had a thing for mature men. Whenever he catches himself fantasizing about men, they are almost always much older than him… and President Wilcox is like a dream come true. His younger companion is already standing stark naked, which doesn't help matters with Elder Miller's dick getting hard at all. President Peterson scrutinizes both boys and then grabs the boy's cock with his hand. The President slowly rubs the boy's entire body with his other hand, and then again focuses on his cock. Meanwhile, Elder Peterson gets a raging and throbbing erection which is impossible to hide. Elder Peterson is certainly turned on by his other colleague, but he's also impatient to wait for his turn to get that special treatment from the President.
Preview video:
Click here to watch their entire video in full HD quality at MormonBoyz!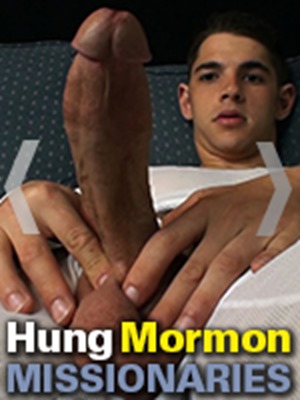 :beard, blowjob, Clothed Men, Elder Miller, Elder Peterson, handjob, Jocks, mormon boys, muscled, President Wilcox, ripped, secret rituals, touching naked men, Underwear