by Ben Daniels (Admin) on Dec.04, 2015, under TheCastingRoom
Straight dude Kevin had never had any intimate contacts with another guy prior to this casting video, but he knows full well that he's now a professional porn star and should do anything that's asked of him; his personal likes and dislikes in sex have little importance in this. He knows very well that if he manages to get into gay porn, he's going to earn lots of money quickly, as opposed to the already saturated straight porn business. He thinks that all this won't be such a big issue because his experience with his girlfriends is pretty extensive and they also had sex where the girl had an active role… so he figures it won't be much different here.
The (pervy) casting director agrees with this reasoning, but would like to make sure that Kevin actually has all the perseverance that's required of such a role. Needless to say, Kevin shines in this role, and goes even a little beyond of what was planned. Even before the casting director started to suck Kevin's cock, it was already almost fully erect. Kevin is a quintessential daddy, complete with manly face, big bulging muscles and huge cock and balls… what could one wish more than that? We also liked the fact that Kevin didn't have to act really, he comes across as totally natural and we are pretty sure he did enjoy the whole thing!
While the pervy casting director fucks Kevin, he grabs his cock and strokes it. His tight straight hole had never been stretched so much, but he seems to enjoy it, and gets pretty vocal. As the pervy casting director pounds his ass, we can notice a drop of precum forming on Kevin's cockhead – nice!
After this, Kevin bends over the casting director and returns the favor by fucking his ass for a change. Of course, Kevin will say he did this only for the money, but a man's dick never lies… he did enjoy it, at least a little bit!
Click here to watch his entire casting video in HD quality at
The Casting Room!
The Casting Room (formerly known as First Auditions) is a great, original porn site that showcases young, cocky straight men who would like to become porn stars and make loads of cash. They think that they'll be accepted right away and be able to fuck lots of girls, but they don't know that our casting director is very strict and wants to fully inspect them during the audition. He orders them to get fully naked, show their ass, and jerk off so that we can clearly see the cumshot. Plus, we get to hear all their fetishes and what turns them on.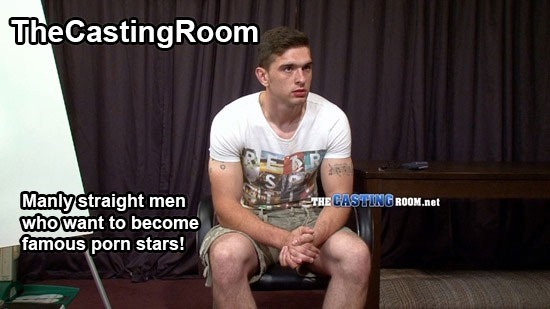 :big dick, cum eating, English men, facial cumshot, handsome, hardcore fucking, Kevin, masculine, muscled, precum, ripped, straight men, stubble, tattoos, thick cock, uncut cock